Grid Photo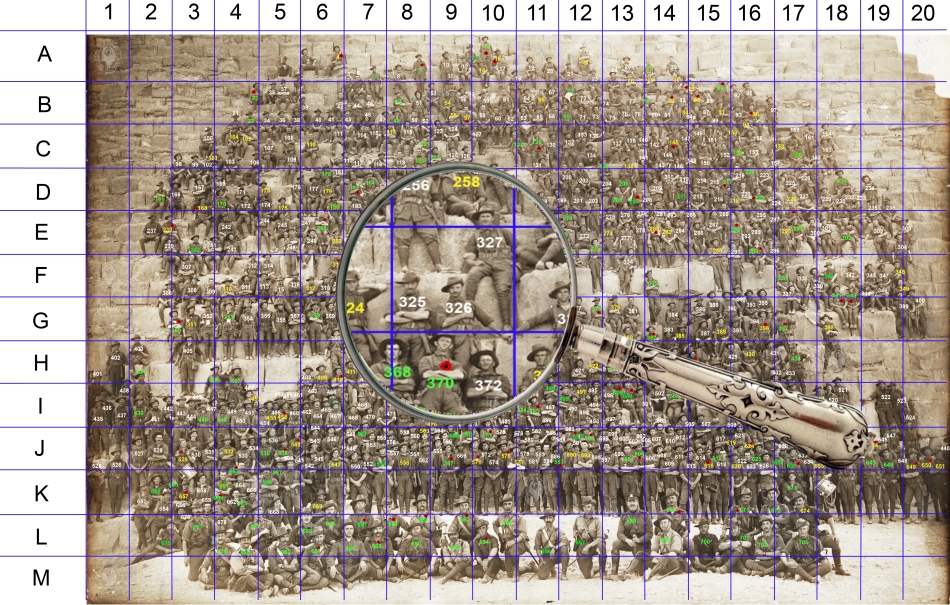 To help facilitate the identification of the soldiers in the 11th Battalion Cheops photograph, the photograph has been divided into grid sections, and each of the soldiers in the image has been numbered, see image on the left (click to enlarge & again to zoom). Note that this is a high definition image and quite large, so be patient. There are 704 men in this copy of the photo, a few of whom are not sufficiently clear to enable identification, being either obscured or not quite in the photograph.
---
Grid numbering
Within the grid image above, unidentified soldiers are numbered in WHITE text; identified soldiers who are yet to be 100% verified are in YELLOW text; and identified and verified soldiers are in GREEN text. Soldiers known to have been killed in action (KIA), died of wounds (DOW), or died of sickness (DOS) as a result of their service in the 11th Battalion are marked with a poppy

Indexes
Identified soldiers names are shown in index tables on the other pages: Photo ID Indexes We hope to eventually provide each of the identified soldiers with their stories on a page of their own. This may take a while to collate, and people are invited to submit their own soldiers stories; links are here: Soldier Stories
---
Clear Photo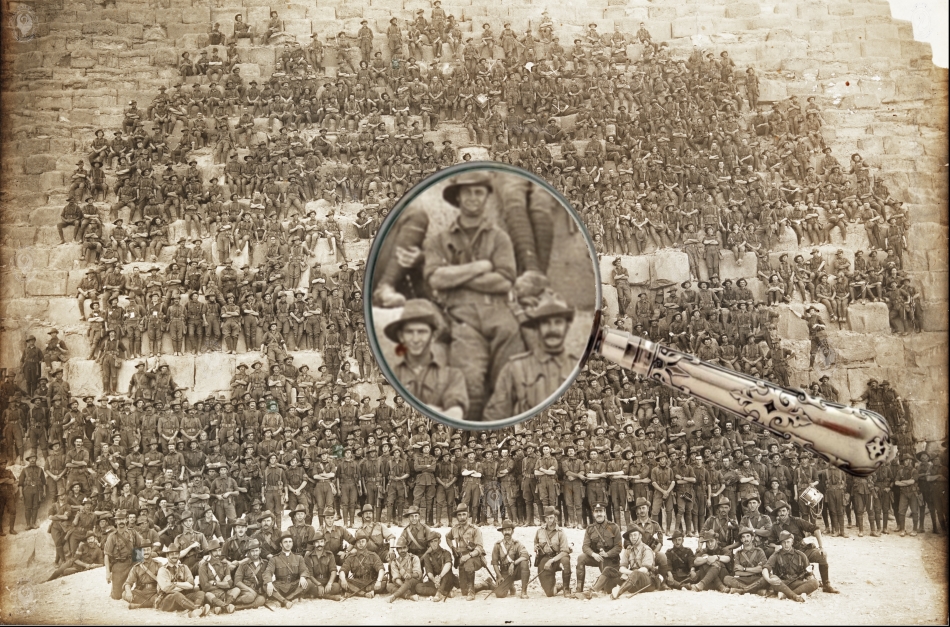 If the grid lines or numbers are obscuring the features of the soldier of interest, please use the clean image on the left for comparative purposes.
---
Grid Clusters - Mystery or Myth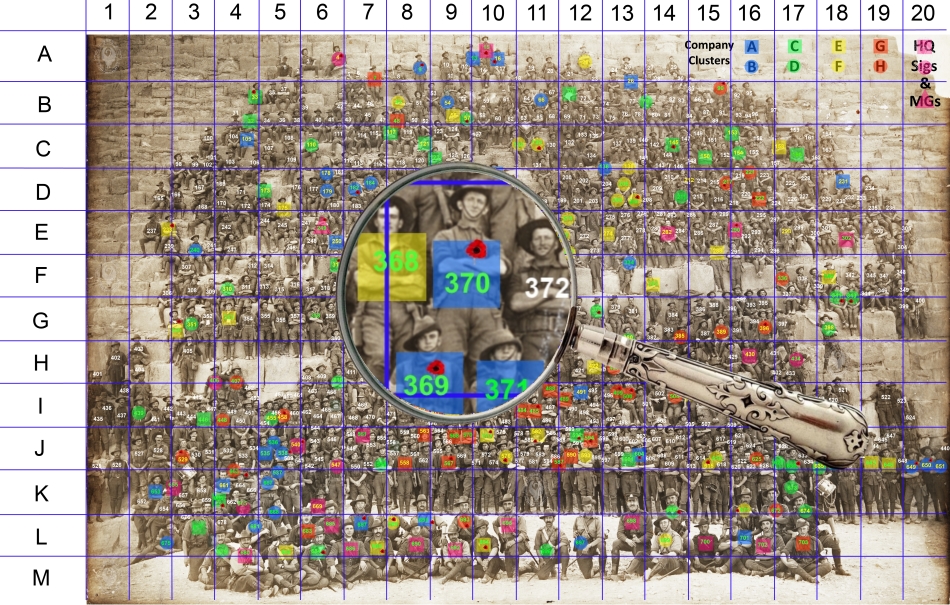 There is a myth around the pyramid photo that the soldiers all lined up behind their respective officers, and in their Company or Section groupings. There is some evidence that soldiers of the 11th Battalion, when they assembled on the pyramid for the Cheops photo, to some extent formed groups or clusters. Go to our Clustering grid image page for further information.
---
Identification
There is a need for some follow up research to confirm and verify some of the men identified and named in the photo shown here. Whilst every effort is being made to ensure accuracy, there are possible discrepancies and the identities should be treated with due caution. Soldiers shown in the grid image, and elsewhere on this web site, with green identification numbers have been verified from various sources.
Cropped images by row
Each of the soldiers in the Cheops photo now has a cropped and zoomed image available. Many of the cropped images are not of particularly good quality, due to the lack of clarity in the original image, but will hopefully assist descendants in being able to recognize the men. See here for separate pages by row: Cheops image crops page. Or go to the Grid cell totals page - and click on the blue links for the individual rows.
Submissions
When submitting material in support of an identification or a story to be included in the tributes, please quote the grid square and soldier ID number, along with the soldiers service number. This will assist us in reducing potential errors. Specific permission must be provided by the submitter for us to use any material, including that of copyright holders in the case of photographs. Attribution for material used will be provided. Submissions, along with supporting material, including a contemporary photograph if available, should be forwarded by email to Chris or Julie at: This email address is being protected from spambots. You need JavaScript enabled to view it.
Please note – submissions identifying a soldier will be independently verified wherever possible before any material is added to this website.