Cheops photo myths - Fact or Fiction?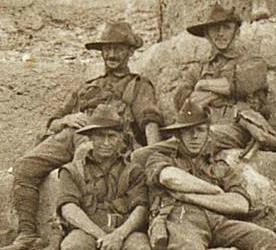 Debunking the Myths about the 11th Battalion Cheops Photo
Myths 1 to 4
These 4 Myths have been around for along time - time for them to go....
For details of other myths go here: Debunking the Cheops Photo Myths

---
Myth 1

The men standing in the second row with arms linked are a father and his three/four sons who were all killed in action on the next day / at Gallipoli.

(Grid #'s J 13-14 - ID#'s 597, 601, 606, 609).



Myth 1 - The father and his 3 sons were all killed on the next day
There is plenty of evidence that this is wrong.
The 11th Battalion pyramid photo was taken on Jan 10 1915 and the battalion did not see action at Gallipoli until April 25th.
The nominal rolls do not support the contention that there was a father and three or four sons in the original enlistments.
We know that at least one of these men returned to Australia and raised a family (3rd man from the left, Private James Frederick RULE, 344, ID# 601), and that he was unrelated to the others.
They are merely good mates serving together and used this method to stand out in the photo.
Myth 1 is debunked.
---
Myth 2

There is a dead soldier up near the top of the pyramid, and he is held up by his mates.

(Alternates between ID# 170 & ID# 31)

ID# 170 who "has a rod up his back his mate holding his collar" (ID# 169)

or

ID# 31 "the dead man is laying against the rocks"


This is a myth of mammoth proportions.
Myth of the first dead man
There is no record of any 11th Battalion soldier having died in the days prior to the photo being taken.
No soldier in his right mind would have treated his mate with such disrespect.
If there was such an effort by the men of the battalion, the officers would not have tolerated any attempt to go through with such a caper. In any event, it would have been a huge task to carry a dead man up the pyramid and not something that even the fittest soldier would have undertaken, especially under the watchful eye of their commanding officers.
ID# 170 (center in left image) is Corporal Frederick Edwin MURPHY (S# 504) of the Machine Gun section of the 11th battalion. Corporal Murphy is clearly leaning back against a pyramid stone.
He was wounded at Gallipoli, went on to serve with the 15th Australian Machine Gun Company, served in France in 1916-17, promoted to CSM W.O. Class 2, he was discharged in Perth in 1918 having attained the rank of Lieutenant (image right).
Fred Murphy died at Subiaco in Perth in 1971 aged 77 and is buried at Karrakatta Cemetery, Perth, Western Australia.
Standing behind Corporal Murhpy with his hands joined across his groin behind Cpl Murphy's head is ID# 169 Lance Corporal Samuel James WEEKS (tentatively identified). He is not holding on to Corporal Murphy by his webbing straps.
Myth of the other/second dead man
ID# 31 (top left in image on the right) is totally relaxed, probably exhausted from his climb up the pyramid. We have yet to identify this man.
We know the man next to him (on the right - his left) is 343 Lance Corporal Joseph Eric Piercy (ID# 32), he returned to Australia as a Lieutenant, received a Military Cross and Bar for action in France, was a Captain in Military Intelligence and served in "Z" force in WWII; he was a professional soldier of high integrity and not the sort of man who would disrespect his mates.
The man seated immediately below the supposed second dead man, at ID# 104, has been tentatively identified as Sern 141, Private Joseph William Bunning, the soldier next to him is identified as 1048 Private Ferdinand George Medcalf. Both of these soldiers were also men of integrity and returned to Australia to fulfil their promise.
Myth 2 is debunked.
---
Myth 3

The men who have their bayonets drawn or crossed are all in the same Company.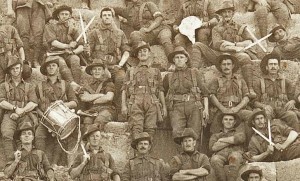 This is Untrue.
Whilst only a limited number of men who have their bayonets drawn have been identified (five out of sixteen) they are from four different enlistment companies, and three different companies that were in existence at the time that the photograph was taken.
Soldiers used this, along with many other methods, as a way to stand out from the crowd.
Myth 3 is debunked.
---
Myth 4

All of the men who have their arms folded are married.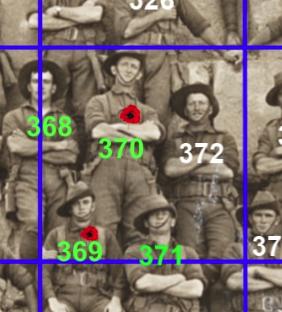 There is ample evidence that this is incorrect.
Amongst those men who have been identified and have their arms folded there are some who are married, but there are men who do not have their arms folded that were married. Likewise there are numerous men who have their arms folded who are single.
For example, soldiers identified in this clip (Grid # G-9), ID#'s 368, 370 & 371 are all single men, all have their arms crossed. The other identified soldier, ID# 369 is also single and his arms are uncrossed.
Again, the soldiers used this as a way to stand out from the crowd.
Myth 4 is debunked.
---
If you know of any other myths surrounding the 11th Battalion Cheops Pyramid photo, and have proof that a "myth is true" or can otherwise "debunk the myths" please let us know via email on the Contact Page.
---