TS Louch Memoirs
Details

Hits: 5444
The Thomas Steane Louch Memoirs
The TS Louch Memoirs are an important part of the narrative of the 1914-1918 war, particularly for Western Australians.
The custodian of the Thomas Steane Louch Memoirs Mr. Peter Davies, nephew of Thomas Louch, has very kindly donated the Louch memoirs to The Western Australian Genealogical Society (WAGS) so that this important document is made available to the public. We are publishing the TS Louch Memoirs here as part of the WAGS 11th Battalion Project.
---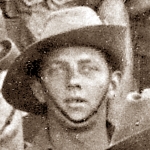 923 Thomas Steane LOUCH (M.C. E.D. Q.C.) joined the 11th Battalion as a private, he was given Corporal stripes within days of joining due to his previous experience as an artillery gunner and corporal in the Garrison Artillery.
The image at left shows Corporal TS Louch amongst his fellow soldiers of the 11th Battalion on 10 Jan 1915 at the Great Pyramid, he is ID# 625 located in Grid J-16.
He had an exemplary career in the A.I.F.; wounded at Gallipoli while serving with the 11th Battalion, he returned to Australia and then joined the 51st Battalion, was mentioned in despatches three times, received a Military Cross and Bar and the Romanian Chevalier of the Order of the Crown.
Details

Hits: 5357
The TS Louch Memoirs Continued – Part 1, Chapter 2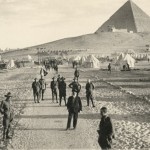 December 1914 – The 11th Battalion has just arrived in Egypt and making their way to Mena Camp in the shadow of the Sphinx and the Pyramids.
Synopsis

Chapter 2 1915 – Mena Camp – Training in Egypt – Lemnos


Corporal Louch takes up his story:
---
CHAPTER 2
You are here:  

TS Louch Memoirs