George Larter - KIA - ID#
485

"He rose responsive to his country's call
and gave for her his best, his life, his all"
Early life
The West Australian port of Fremantle was experiencing a typical warm, sunny spring day on the last Tuesday of November 1910 when the passenger ship Orvieto, carrying two hundred and twenty two nominated and assisted immigrants from the 'old country' steamed through The Heads and into the harbour.
Eighteen year old George Larter was one of that number.
As the ship docked, George had his first glimpse of his adopted homeland. Little did he know that he would be sailing from the same harbour some four years later, wearing the uniform of the Australian Infantry Forces with the stripes of a corporal on his sleeves.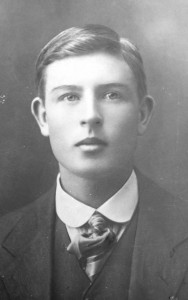 This young man had left his home in the crowded, working class London suburb of Willesden to make a new start in Australia. His aunt Catherine, married to a Wagin farmer, Thomas Walters had assured him that the sun shone most days and opportunities abounded for young men willing to work hard. Life up to that point had been a struggle for him, his mother and two sisters.
Whilst still a young lad, his father who was, incongruously, an Inspector of Cruelty to Children and the Superintendent of a Home for Unwanted and Abandoned children, went out one evening to go to the corner store and never returned. His fate remains a mystery.
George's hardworking mother Isabella, a native of the Perthshire town of Blair Atholl, worked as a cloak room attendant in a biscuit factory to support herself and her three children.
As was usual for most single, young, newly arrived male immigrants, George moved to country West Australia working as a carpenter in Northam and within two years, his mother and younger sister Grace joined him. His older sister Alice, now 'stepping out' with Sydney Ellis Jones, stayed behind in London, living with her grandmother and uncle.
A country at war
England's declaration of war in August 1914 and the Australian Prime Minister's promise of 20,000 Australian volunteers to help with the struggle against Germany and her allies, resulted in a dramatic change to the fortunes of the Larter family.
George was amongst the first to apply for selection as one of Northam's quota for the Overseas Expeditionary Force. He presented himself at the local recruiting centre on Saturday 15 August, 1914 and with other candidates underwent a severe physical fitness test and was one of the thirty men chosen.
On Monday 17th, to the rousing cheers of the locals, he left Northam on the Goldfields Express en route to the newly established military camp near Bellevue in the foothills of Perth. George was a fine looking young man, tall, well-built and described in his attestation papers as having a 'fresh' complexion.
Assigned the rank of private in 11th Battalion, G Company, he was promoted to corporal a fortnight later, which was surprising given that when asked during his attestation if he had had any previous military service, his response was 'no'. However, the Northam Courier of 18th August, which reported George's selection in the local group, stated that he had previous service in the Territorian Regiment (England). Perhaps in his eagerness to be part of the Overseas Expeditionary Force, George invented military service in England to bolster his claim for selection.
Off to fight for King and country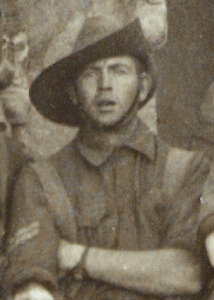 After months of training at the Blackboy Hill camp near Bellevue, the 11th Battalion entrained to Fremantle where George, as part of G Company, boarded the Ascanius which sailed on 2nd November 1914 for an unknown destination.
Three weeks into the voyage, Colonel Johnston read out a wireless message to the troops advising that they were to disembark at an Egyptian port and then proceed to Cairo for further training. The news was a great surprise to the men as most, including George, had looked forward to disembarking at an English port and visiting friends and family.
On the 10th January 1915, along with 700 or so of his Battalion, George climbed several tiers of the Great Pyramid of Cheops and posed for the famous Cheops photo, probably the last photo ever taken of this handsome young man.
After several months in Egypt undergoing long and arduous training, George and his Battalion embarked from Alexandria aboard the HMT Suffolk to join the Mediterranean Expeditionary Force on the Greek island of Lemnos.
Sunday, 25th April, 1915
The 11th Battalion was selected for the first assault wave on the shores of Gallipoli.
In the early hours of Sunday 25 April, George sat silently in a lifeboat alongside others in his company being towed towards the darkened shore. Around 4am the skyline began to lighten and land mass could be seen. The emerging light also meant that the assault force was seen by a Turkish sentry who fired a shot.
The landing and bloody carnage on the Turkish peninsula had commenced.
In the turmoil that ensued, George was killed and his body never officially located. His date of death was recorded as 2 May 1915, the day on which information about the missing, killed and wounded was gathered.
Statements from three members of his Battalion however, indicate that George did not survive the landing on the 25 April. Private Colin Hudson reported that he had heard that George was killed by a machine gun on the first day of the landing. Another man from the 11th Battalion, Private Joe Rathborne stated that George was killed near Gaba Tepe on the 25 April. The most detailed and poignant statement however came from another of the original Northam recruits, local butcher John Higgs. It read

"Said to have been shot in the head on April 25th and to have died in the morning of the 26th. He was carried from the firing line to the shelter of a hill by two companions, one of whom was Private W Cowan. Larter was heard to ask for water. Early in the morning of the 26th he was found dead by his friends who had carried him from the firing line".


A family devastated
George's effects, a brown paper parcel containing a hymn book and playing cards were returned to his devastated mother. She was paid the monies owing to her son (£94/13/1) by the Australian Infantry Force and received an ongoing pension of forty shillings per fortnight. George was her only means of support.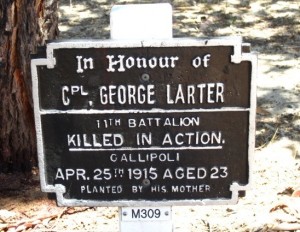 There was added sorrow for the Larter family.
George's older sister, Alice, known as Peggy, married her beau Company Sergeant Major Sydney Ellis Jones of the 6th London Rifles towards the end of 1915. He was killed in France in February 1917.
George's cousin, Alexander Stewart of the Black Watch was also a casualty of the Great War; he succumbed to wounds on 31 August 1916.
George Larter is remembered on the Lone Pine Memorial at Gallipoli, Turkey and also on a small brass plaque situated between two arched stained glass windows in the Trinity Uniting Church in Perth Western Australia.
His mother later planted a native tree in the Avenue of Honour in Kings Park (a beautiful bushland overlooking the city of Perth) behind a plaque honouring her only son. In the immediate years following his death, she inserted an In Memorium notice in The West Australian. One of these notices concluded with the following poignant lines:

He rose responsive to his country's call and gave for her his best, his life, his all


With sincere thanks to Edward Fletcher, nephew of George Larter, for sharing family memories with our grateful country.
---
Researched and written by Julie Martin
Sources
National Library of Australia, Trove (http://trove.nla.gov.au)
National Archives of Australia (www.naa.gov.au) (including Service Record, for George Larter)
Ancestry (www.ancestry.com)
Australian Red Cross Society Wounded and Missing Enquiry Bureau Files, 1914-18 War 1DRL/0428 – 801 Corporal George Larter 11th Battalion. No 1551005H
---