Fleet sails to destination unknown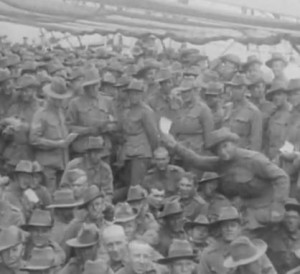 On this day November 1st 1914, 100 years ago today, the Soldiers of the ANZAC force sailed in convoy from the Western Australian port of Albany.
They travelled up the coast of WA and on November 3 picked up the two troopships, HMAT Ascanius (A11) and HMAT Medic (A7), which had embarked from Fremantle with the 11th Battalion on the 31st October.
They were at anchor for two days in Gage Roads awaiting the convoy and escorts which sailed from Albany and picked them up early on November 2nd 1914.
This Australian War Memorial footage covers the first couple of months training and the troopships departure.
Footage courtesy the Australian War Memorial archives.