Beth talks about her dad James
Beth points to her father James Rule ID# 601 in the Cheops Pyramid photo.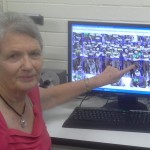 Thanks to Beth for sharing her insights about her father James Frederick Rule's experience in this short video by The West Australian's digital editor Kate Ferguson. The West has been most generous in supporting our project and we thank them for their continued support of our 11th Battalion project.
For a full list of names of the soldiers who may be in the Cheops photo, go to the 11th Battalion original enlistments page
Everyone is welcome to attend the Commemoration Service at Kings Park on 10 Jan 2015.
Video courtesy of The West Australian newspaper (Kate Ferguson) (needs Adobe Flash Player to run)