Ferdinand George MEDCALF - RTA - ID#
105


... an unusually modest type of man ...


Ferdinand George Medcalf's intelligence, leadership and courage earned him a Distinguished Service Order, a mention in despatches and a recommendation for a Military Cross.
He enlisted in the 11th Battalion AIF in 1914 as a Private and was invalided back to Australia in March 1917 as a Captain.
Foreward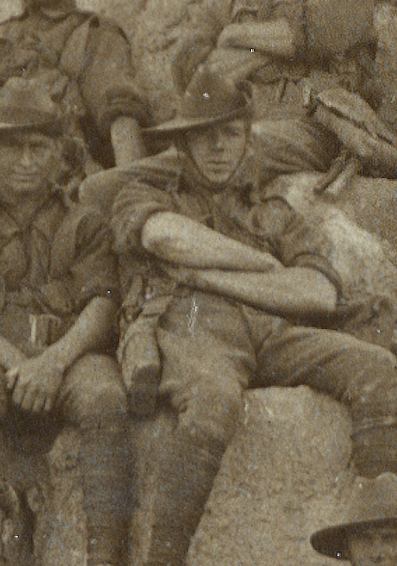 Medcalf's experiences at Gallipoli and on the Western Front are chronicled in Fremantle to France by Ian Gill and Game to the Last by James Hurst. He is also one of the 32 Anzac related individuals whose personal experience of the Great War can be followed at the National Anzac Centre in the Albany Heritage Park, Western Australia. Yet George, or 'Meddy' as he was known, was an

'unusually modest type of man who seldom could be persuaded to talk about his experiences'.


Despite his shattering encounters in the Great War, at the age of 51 he re-joined the AIF, serving with Western Command as a staff officer and later as a Captain in the 4th Field Survey Company which produced military maps of Western Australia.
After his death in 1969, George's copy of the photo of the 11th Battalion on the Great Pyramid was donated by his daughter Margaret to the State Library of WA.
Margaret was later appointed State Archivist and Battye Librarian and made a valuable contribution to the development of government and private archives in Western Australia.
We thank Margaret for generously sharing her insights and details of her father's life with us.
---
Duty towards the country and fellow man
Ferdinand George Medcalf was born in Sydney and came to Western Australia in 1901 with his parents Ferdinand Thomas and Lilian Medcalf and a younger brother Clarence. They lived in Claremont and he attended the Claremont Central State School before gaining a scholarship to Scotch College.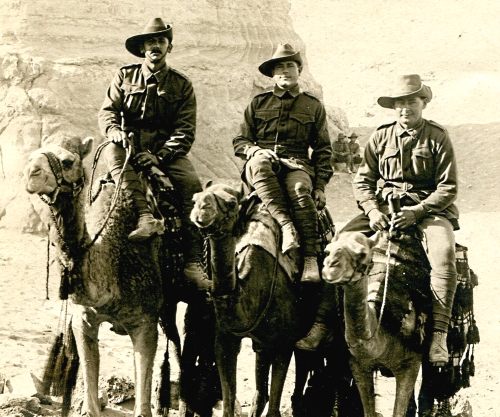 He was a high achiever both in sport and academically. On leaving school he studied and qualified as a licensed surveyor and planned to follow this with a civil engineering degree at the new University of Western Australia. His name is listed as an original student in the University's commencement year of 1913. However the War intervened. He enlisted in August 1914, trained at Blackboy Hill camp as part of the 11th Battalion and on 31 October sailed in the Medic with the first convoy.
In 1908 a new girls' school commenced in Claremont, Methodist Ladies College, and Rita Fry (my mother to be) was one of the original students. Joint activity with Scotch College is possibly how my parents became acquainted and their growing friendship was much commented upon in the old boys' notes in the Scotch College Reporter over the next few years. They announced their engagement just prior to my father's departure for the War.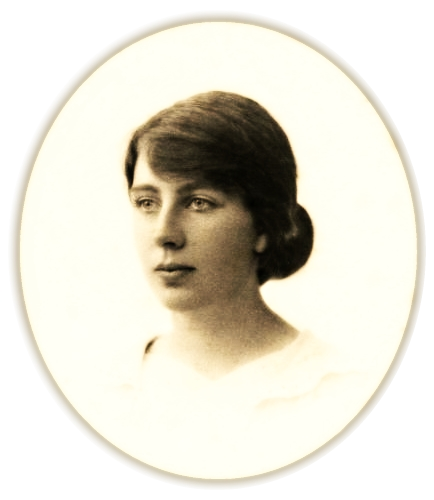 He carried a photograph of Rita throughout the War and noted on the back of it the dates of his promotions commencing as Private and reaching Captain on 12 March 1916. He was at the Gallipoli landing and later served in France. His selfless courage and leadership were recognised by being mentioned in despatches and decorated with the Distinguished Service Order. He was wounded and spent time in England and Scotland recuperating. He was invalided back to Australia arriving in March 1917. He and Rita were married the next month. They moved to Albany where he set up as a private contract surveyor and lived a long and happy life for another fifty years.
The good fortune of a strong supportive wife
My father's work as a surveyor, which included large Government contracts, took him all over the State and some of the projects he was involved in reflect the development of Western Australia. They included post first World War group settlement areas in the South West, mining leases on the Goldfields, military mapping during World War 2, a report and survey of the Ord River area in 1944 as a preliminary to the Ord River Dam scheme, newly discovered post second War mineral areas including laying out the Wittenoom townsite and 1950's war service land settlement areas in the hinterland of Albany. He was away from home a great deal and was fortunate to have a strong support in Rita who was left to run the home and three children for lengthy periods.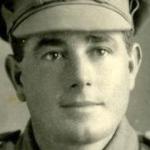 The fact that my father did not suffer the terrible traumas which befell many returned soldiers may be explained by the fact that he came back to a secure life with a strongly supportive wife and an established career. He was also older than many others and had been a lieutenant in the school cadets so had some knowledge of military discipline and was a good sportsman. Whatever the reason he was one of the lucky ones. However it is a belief in the family that his character was changed by the War from a gregarious and popular young man to a much quieter and retiring person.
My father's exploits have been brought to light again this year with his inclusion in the new Anzac Centre in Albany (opened on 1 November 2014). This museum tells the story of the Anzacs through the lives of 32 people who sailed in the first convoy and my father is one of those chosen. Using state of the art technology the hardship and horror they went through is brilliantly depicted.
Little did those men in the Cheops Pyramid photograph envisage what lay ahead for them.
---
Margaret Medcalf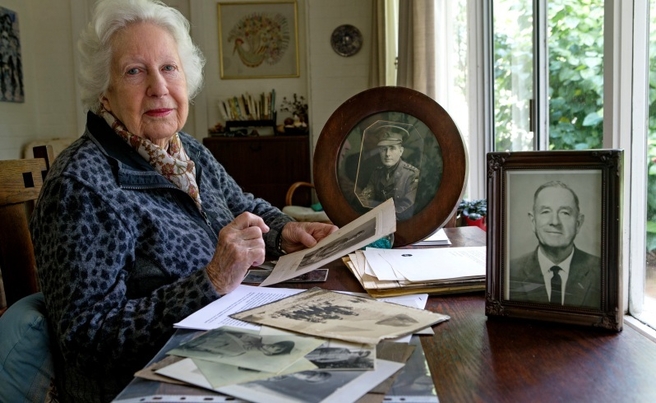 (Margaret Medcalf - picture Steve Ferrier/The West Australian)