How did the Great War affect your family?
We all have many stories to tell and WAGS member Bev Russell (#412) is the first to relate that of a member of her family, who having survived the trials at Gallipoli, died in France just fifty four days before the signing of the Armistice.
Dudley Marwood Elliott 1895-1918
Dudley was born on 9th December 1895, at Tennyson St, Brighton Beach in Victoria, son of Edwin Charles Elliott, a sharebroker, and Kate (nee Marwood) of Broxbourne, Armadale St, Armadale, Victoria, Australia.He was the third child born to Edwin and Kate, having an older brother, Edwin Bruce (born 28 Dec 1886), an older sister, Beryl Marjory (born 9 Nov 1889) and a younger brother, Victor (born in 1899). Dudley moved to WA to live with his uncle Harry and aunt Norma in Geraldton. They were very fond of him.
Watercolour painting below by Dudley Elliott
(also background image on this website)
(Image courtesy Bev Russell)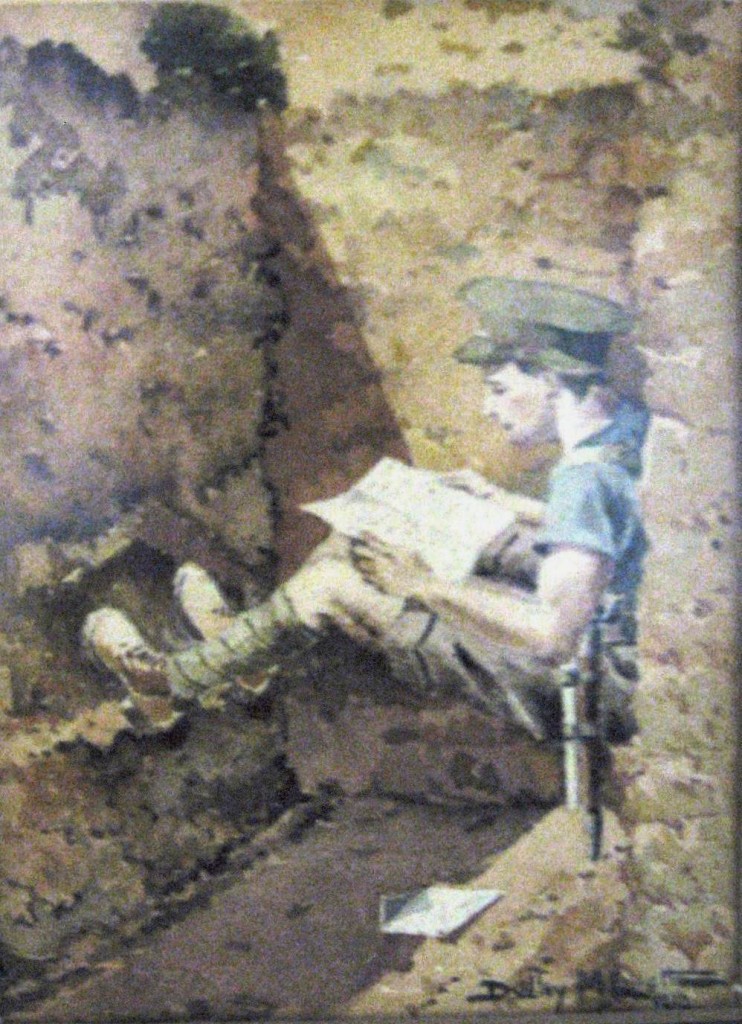 A report in the Geraldton Guardian of Tuesday 10 December 1912 states|:
An Artist in Water Colours. On view in one of our windows will be seen a number of water colour sketches from the brush of Mr Dudley M. Elliott, nephew of Mr. Harry M. Marwood, of this town, and who has lately arrived from Melbourne to study architecture with his uncle. Mr Elliott, who is not yet 17 years old, just before leaving Melbourne won the second prize in the Victorian Artists' Association, for a bush scene in water colours, the prize being a large silver rose bowl mounted on an oak stand. He also paints on silk and satin, and is open to accept commissions. His sketches are all original.
Dudley enlisted in the armed forces at Blackboy Hill, Western Australia on 14 Sept 1914 at the age of 19 years and 8 months.
Details on his Attestation papers show
He was 5 ft 7.25 inches tall,
weighed 150 pounds,
was of fair complexion,
with blue eyes and a scar under his chin.
He was first appointed to G Company, 12th Battalion on 6 Oct 1914.
Had previously enlisted in H Company, 88th Infantry in Geraldton for 18 months.
Embarked Fremantle, WA on HMAT Clan McGillivray A46
Occupation listed on his military records was Timber Hewer
Service Number: 6334
Rank: Private, 11th Battalion, 13-23 Reinforcements (Jan-Dec 1916)
Promoted to Rank: 2nd Lieutenant in 11th Battalion
On 4 Dec 1915, Dudley returned to WA per Karoola with Enteric Fever but was deemed fit for duty again on 3 Feb 1916.
The Geraldton Guardian on Thursday 25 November 1915 reported:
Private Dudley M. Elliott, nephew of Mr H, Marwood, who enlisted at Geraldton, took part in the memorable landing at Gaba Tepe, and spent five months in the trenches, is returning on three months' furlough, and is expected to land at Fremantle. His parents reside in Victoria, but the military regulations, we understand, will prohibit him visiting that State except at his own expense.
Sketch by Dudley Elliott
Australians and Turks advancing
during an attack at Gallipoli.
(Per AWM ART09448)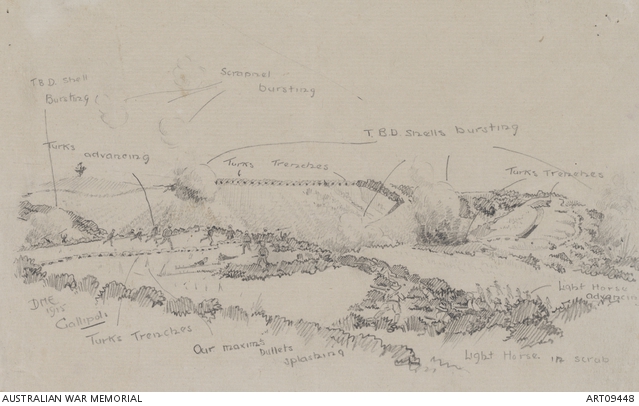 Also reported in the same newspaper on Tuesday 7 December 1915, the following:
Private Dudley Elliott, nephew of Mr H. M. Marwood, of the 12th Battalion, who was one of the first contingent to leave Australia, and who served at Gallipoli from the memorable landing day on April 25 to August 5th has returned to West Australia on furlough, which will extend over three months. Private Elliott was lucky enough to come through without a scratch, but dysentery seized him, and he was sent to Egypt, where, after spending some time in hospital in Alexandria and a further period in a convalescent camp at Port Said, he was sent home by the hospital ship Karoola. He arrived by this morning's train from Perth, and despite the hardships he has gone through looks fit and well. He expressed the view that the Gallipoli campaign was a difficult proposition, and that they wanted more and more men.

The Turks he described as brave men and scrupulously fair fighters. The provisioning of the troops was as good as could be expected under the circumstances, and now they were getting plenty of fresh meat, flour, rice, milk etc. With regard to receiving pay he had experienced no difficulty, and since arriving in W.A. he had been put to no inconvenience in obtaining railway and tram passes. Private Elliott hopes to leave for the East in a week or two on a visit to his mother.

The 11th Battalion's final attack came against the Hindenburg Outpost Line on 18th September when they launched a three company attack around Fervaque Farm & Carpeza Copse near Villeret.
The attack begins at 5.20am with D Company under Capt. Tulloch on the left attacking Carpeza Copse and C Company under Capt. Graham on the right attacking Fervaque Farm. A Company under Capt. Hallahan are the mopping up party, Hallahan having recently been recalled from leave in England (and about to leave for Australia) and being in the process of getting married. The attack goes well with light casualties, although some are original members such as Capt. Hallahan. Between the three companies, over 120 prisoners are taken, as well as fifty-four machine guns, three field guns, three anti-tank guns, two minenwerfers and some thirty of the enemy killed. They advance 3000 yards, the three companies having an average strength of just seventy-six men each. The 9th Battalion passes through the 11th Battalion go into supports, coming out of the line on the night of the 23rd. Eighteen men are killed or die as a consequence of their wounds.
(Gill, Ian - Fremantle to France, 11th Battalion AIF)
Dudley M. Elliott died of wounds 18 Sept 1918 at the Somme, France. He had been reported wounded & missing with the Australian Red Cross (Enquiry Bureau files 1914-18, 1DRL/0428) having been wounded in the thigh.
A deadly fire was opened from the trench at Caution Dugouts on the next small spur. The bullets razed the ground on which the 11th was digging. Lieutenant Elliott was killed. (C.E.W. Bean, Official History of Australia in the War of 1914-18, Vol VI).
Dudley Elliott died 54 days before Armistice was declared.
The report of the death of Dudley Elliott was recorded in the Western Argus, Kalgoorlie on Tuesday 19th November 1918. He was buried at Tincourt British Cemetery, France..Grave/memorial No. V.E. 13. At the Australian War Memorial, Dudley is commemorated on panel 62.
Letter to Kate Elliott on the death of her son:
My dear Mrs Elliott, It is with deep sorrow that I have to write to you to convey to you my own, the sympathy of the Commanding Officer, Officers and mess of the 11th Battalion with in the death of your dear son Lieutenant Dudley Elliott. He was in the big battle today when he was severely wounded in the right thigh. He was quickly attended to and was quite bright, but the shock was too great and he gradually sank and passed peacefully away soon after reaching the first field hospital. He was a fine young fellow, a brave and courageous soldier & a good companion. He was much loved in the mess & many are the expressions of sorrow today at his loss. He had only recently completed a most artistic design for our Xmas card which is now being produced in London. As an artist he was superb. He was set aside a few days ago to attend a military school in some special subjects & was not to have taken part in this big battle. But owing to shortage of officers he was recalled & he came bright and smiling not minding- for he was a good soldier & never flinched when duty called. And leading his men bravely in now what has proved to be one of our greatest successes he fell in the field of honour and gave for us & our great cause his very all- his bright young life. In the bitter sorrow of a living mother's heart surely such a life and such a death might be some consolation. He truly has not lived nor died in vane. We laid him to rest in the little cemetery at Tincourtt- not far from Peronne. His brother officers carried him to his last resting place. Chaplain McBain read the sermon over his grave. I am sure that God will give him the Martyr's Crown and I trust that He in his fondness will console your heart in your great sorrow. A nice cross will at once be erected on his grave & then we must leave him resting until the Bugle again calls him to Victory's Last March. I am, my dear Mrs Elliott Sincerely yours T. J. O'Donnell R.C. Chaplin 3rd Brigade
It is known that Dudley was residing with his aunt and uncle in Geraldton when he enlisted. His uncle, Harry Marwood, was an architect and was tutoring Dudley in architecture. It is not certain when Dudley came to WA to stay with his Aunt & Uncle but it must have been about 1912. Dudley's cousins, Gordon and Mark, received a letter from him dated 18th Oct 1917:
Dear Gordon and Marcus, I haven't written to you for quite a long time now & I'm sure I don't know whether you received the last one because it's very uncertain whether old Fritz is going to let the boat through or not. I hope you both and Bonny are well. Do you go to school yet Twain. I suppose Dodo is getting on well. I wish you would send me some drawings so as I can get some idea how you are getting on. You want to be always at it. Draw anything you see that that you think you like & don't copy any more than you can help. I have done quite a lot of sketching since I've been over here but I've lost two books, but I've still got one I'm going to send home soon. This week we have been very lucky. Somewhere in the West some people have evidently started a trench comforts fund for the 11th Battalion and we've had plenty of cigarettes, sweets & sox, shirts etc all this week, in fact at the present I've got more cigarettes & lollies that I've ever had at one time before. Well Dodo I haven't any more news. I suppose you read the paper by now so you can see all about our latest doings. Give my love to Aunt & Uncle & yourselves and Bonnie & remember me to the Wights & Puppy.
I am Your loving cousin Dudley
It is assumed that the 'pet names' Bonny, Twain and Dodo were of his cousins Pauline, Markus and Gordon.
Sinking of the Triumph.
Watercolour by Dudley Elliot
(Per AWM ART09449)

Among the tributes to Dudley, written in the newspapers, were several mentioning his talent as an artist
Lieutenant Elliott, who enlisted as a private and rose to the rank of Lieutenant in the service, was something of an artist, whose sketches have been exhibited, provoking the warmest comment as to their merit. A brainy clever lad and one of Australia's heroes, who leaves behind him a memory that is sweet.
The Holy Advent branch of the Red Cross Society, Armadale, held an interesting exhibition of German souvenirs and relics at their rooms on Saturday afternoon. Gas masks, German pistols, helmets, belts and a model aeroplane, made from material picked up by an ingenious soldier on the battlefield, were examined with much curiosity. What, however, received the greatest attention was a collection of remarkably well executed water colours and sketches by Lieutenant Dudley Elliott depicting scenes which ranged from the Gallipoli landing to camp life in Egypt and France. The object of the exhibition was to raise funds for further material.
A Geraldton Artist at Cambridge - The many Geraldton friends of Mr Dudley M. Elliott, nephew of Mr Harry M. Marwood will be pleased to learn that whilst attending the officers school at Emmanuel College, Cambridge University, his undoubted artistic ability was largely availed of in illustrating a souvenir magazine entitled Cheerio (chronicling chiefly chaps and chapters of "C" company No. 2 O.C.R) Mr Elliott's work predominates in the publication and embraces pen portraits, caricatures and initial and tail pieces. The facade of Kings College is a particularly fine sketch as is also Clare Gates to Backs. Both are freely drawn and devoid of hard lines. In caricature he also excels and we shall be surprised if opportunity is not afforded him of displaying to a worldwide audience his undoubted ability as a cartoonist. The editor of Cheerio facetiously introduces each of his class in a few lines and refers to Mr Elliott as the ever smiling artist from Geraldton, West Australia, who gives them all a good hearing.
We this week had the pleasure of inspecting at the local State Savings Bank several specimens of the artistic work- etchings and water colours- of the late Lieut. Dudley M. Elliott. A brother of Mr E. B. Elliott, manager of the bank. The little collection at Rochester is but a very small part of the mementos left by the now vanished hand of one on whose day of life the dawn was just breaking with such promise of splendour. He rests in a hero's grave at Tincourt, and Australia is the poorer because of his passing West.
Daily News 30 Sept 1918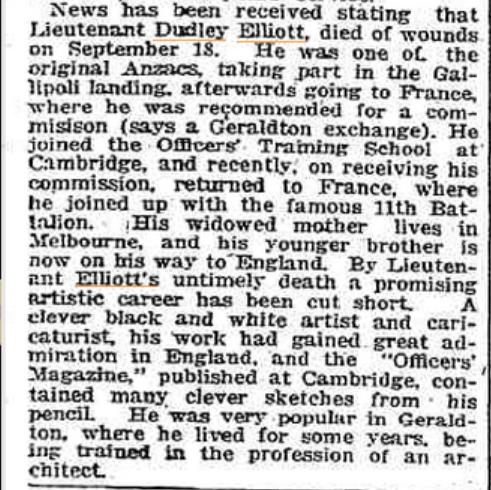 The sad news received yesterday by Mr H.M. Marwood that his nephew, Lieut. Dudley Elliott had died of wounds on September 18th. The young fellow he had not reached his 23rd year was one of the original Anzacs taking part in the Gallipoli landing, afterwards going to France, where he was recommended for a commission. He joined the Officers Training School at Cambridge and recently on receiving his commission returned to France where he joined up with the famous 11th Battalion. His widowed mother lives in Melbourne and his younger brother is now on his way to England. By Lieutenant Elliott's untimely death a promising artists career has been cut short. A clever black and white artist and caricaturist his work had gained great admiration in England and the officers' magazine published at Cambridge contained many clever sketches from his pencil. He was very popular in Geraldton where he lived for some years being trained in the profession of an architect and the greatest sympathy will be felt with the relatives in their bereavement.
[possibly The Daily News, Monday 30 September 1918] Gravesite of 2/Lt Dudley Elliott
Many of Dudley's watercolour paintings from the trenches are held at the Australian War Memorial
---
Note. This article was first published on the WAGS Blog in 2014, prior to the 100th anniversary of the Cheops (Khufu) photo being taken. Unfortunately it was missed when upgrading the WAGS Blog, so we are now republishing it here, where it belongs, as part of the 11th Battalion website.
Thanks are due to Bev Russell for providing the tribute to her 11th Battalion family member 2nd Lt Dudley Marwood Elliott. Second Lieutenant Elliot was part of the 11th Bn 20th reinforcements and sailed from Fremantle on HMAT A46 "Clan Macgillivray" on 18 September 1916, he was killed in action two years to the day on 18 September 1918.