Crispin Kenworthy BATTYE - KIA - ID#
499

Crispin Kenworthy Battye was born in the summer of 1876 at Hindmarsh, which is an inner western suburb of Adelaide.
Crispin was the sixth of eleven children born to William and Sarah Battye, with three sisters and seven brothers, although four of the children died in infancy. All the children were born in the Hindmarsh area.
His father William had a younger brother also named Crispin Kenworthy Battye.
It is likely that with a large family, the children's education was fairly basic.
Family Background
The Battye family had Yorkshire roots, with Crispin's father William born in Golcar near Huddersfield in Yorkshire in 1835. His parents were George and Mary (nee Kenworthy) Battye and George worked as a handloom weaver in the woollen industry.
William married Sarah Finch in 1858 in Huddersfield, prior to emigrating to South Australia on the ship Utopia later that year and he was listed as a labourer. William and Sarah Battye are listed in the South Australian Register of 10 July 1858 amongst the 'Government emigrants in the steerage', and it appears they came to the colony on an Assisted Passage.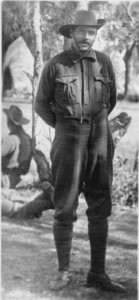 William's older brother Ezra had emigrated to South Australia some time prior to 1856 and settled in Hindmarsh, working as a fellmonger and woolscourer, and he probably encouraged William and Sarah to join him in the same area.
Other Battye families from Yorkshire also went to South Australia in the 1850's and settled in various parts of the colony.
However Crispin, like his father, must have had a spirit of adventure and willingness to travel to new places, as at some time during the 1890's, he and his older brother William moved to Western Australia, probably attracted by the gold rushes of the 90's.
Boer War service
1899 saw the outbreak of the Boer War in South Africa, and as part of the British Empire the Australian colonies offered troops for the war. From September 1900 to May 1902, the fiercest fighting was over and the war was mainly a guerrilla conflict between British mounted troops and Boer irregulars. The Western Australian contingents reached South Africa in March-April 1901. Crispin had enlisted in the 5th West Australian Mounted Rifles and his name appears on the Nominal Roll (No. 279 Private Crispin Battye).
He would have been in South Africa from early 1901 to mid-1902 but there does not appear to be a surviving Service Record for him at the National Archives of Australia, although his Attestation Paper for World War 1 states that he spent 18 months with the 5th West Australian Mounted Rifles. An article in the Perth newspaper,
The Inquirer for 1 February 1901 lists the men of the 5th Contingent (Boer War) in camp at Karrakatta, and Crispin Battye appears on the list as a 26 year old Baker from Kalgoorlie, with no previous service. It is possible that he was working as a carter for a bakery, as his later occupation was documented as Carter. His older brother William BATTYE also enlisted for the Boer War at a later date, joining at Kalgoorlie on 6 February 1902 and his Attestation Paper gives his occupation as Teamster.
Between the Wars
After South Africa, Crispin returned to Western Australia and lived in Hannan Street, Kalgoorlie and worked as a Carter. In 1910 he was based at the Day Dawn Hotel in Day Dawn near Cue, working as a Miner. It appears he eventually tired of the harsh conditions on the goldfields and probably around 1910 decided on a move to the coast, as in the 1916 Electoral Roll (issued after his death in 1915) he was shown as a Labourer living at Wellington Street, Bunbury. It is believed he worked as a Porter for the WA Government Railways and Porter was the occupation given on his Attestation Paper for World War 1.
There is no evidence that Crispin ever married, either in South Australia or Western Australia, and he was shown as single on his World War 1 Attestation Paper. Living and working in outback mining towns, and enlisting for service in two wars, seems to indicate a lack of strong domestic ties.
World War I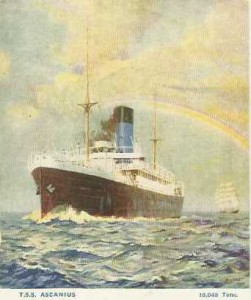 Perhaps his experiences in South Africa engendered a desire to see more of the world, and induced him to enlist in World War I, despite the fact that he was older than the majority of those enlisting at that time, or perhaps he enlisted primarily from a sense of duty to the Empire. At the time of his World War 1 Attestation Paper Crispin was aged 39 years 6 months. He was 5 feet 8 1/2 inches tall, weighed 150 lbs, had a fair complexion, grey eyes and fair hair. He was shown as single, and his religious denomination was given as Church of England.
He was declared fit for active service on 10 September 1914 and was assigned to the 11th Battalion H Company 3rd Infantry Brigade AIF, with the rank of Private. (Service No. 864). However his service in the Boer War is unlikely to have prepared him for the horror of the Gallipoli landing.
The Unit embarked from Fremantle per Transport A11 Ascanius on 2 November 1914 bound for Egypt, where the troops spent time before embarking again from Alexandria on the H.M.T. Suffolk on 2 March 1915 for the Gallipoli Peninsula. By now a member of the reorganised D company, Battye was amongst the 11th Battalion men in the second wave of 3rd Brigade troops who landed on the 25 April 1915 at what was to be known as Anzac Cove. Lieutenant-Colonel Johnston addressed the troops for the last time before battle .....

Boys, the General informs me that it will take several battleships and destroyers to carry our brigade to Gallipoli; a barge will be sufficient to take us home again!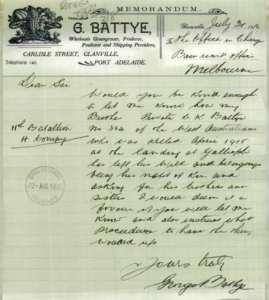 Battye was Reported Missing on that fateful April day and on 10 April 1916 he was 'Pronounced Killed in Action by Court of Enquiry held at Fletre, France. He has no known grave, but his name is recorded on the Lone Pine Memorial, Gallipoli Peninsula, Turkey. His name is also located at Panel 61 in the Commemorative Area at the Australian War Memorial, Canberra.
As far as we know, he was photographed for the last time on 10 January 1915 and is located at ID# 499 in the Cheops image sitting among his mates in "D" Company. His war medals were the 1914-15 Star, British War Medal and Victory Medal.
Crispin's eldest brother, George, was the nominated Next-of-Kin on his Attestation Paper, as his parents had died in 1897 (William) and 1900 (Sarah). Initially the official army correspondence was with George, but after he died in April 1922, it left his younger brother Victor Joel Battye as his only surviving brother.
Victor Joel received Crispin's Memorial Plaque and Victory Medal in 1922.
---
Article researched and written by Trish Allen.
Sources
Biographical Index of South Australians 1836-1885
Free BMD (www.freebmd.org.uk) UK Census 1841, 1851 (www,ancestry.com)
Commonwealth Electoral Rolls (www.ancestry.com)
South Australian Births Index 1842 - 1906 (CD)
South Australian Marriages Index 1842 - 1916 (CD)
South Australian Deaths Index 1842 - 1915 (CD)
Western Australian Marriages (www.bdm.dotag.wa.gov.au)
Australian War Memorial (www.awm.gov.au)
National Archives of Australia (www.naa.gov.au)
National Library of Australia, Trove (http://trove.nla.gov.au)
Australian Light Horse Studies Centre (http://alh-research.tripod.com)
---