S# 821 Private Charles William POWER - DOS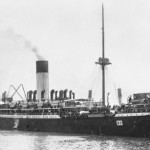 On this day - 11 November 1914 - On board HMAT Ascanius (A11) the second death of the 11th Battalion after embarkation.821 Private Charles William Power, G Company, died of pneumonia and was buried at sea, just one day after the first soldier from the 11th Battalion died.
Private Charles William Power was a single man, a farmer 19 and a half years of age, his next of kin being his parents Mary and Alfred Power, named as his father Alfred, farmers at Birchip in Victoria.
Brothers in Arms
Private Power's brothers, Gordon Albert, Alfred Thomas, and Walter James also served in the AIF. Gordon Albert was serving with the 24 Battalion, No.2 Company Training Depot (no Sern) when he died, reportedly of meningitis at Broadmeadows Camp on 24th May 1915. Court of Inquiry on his service record show he died at the Birchip local hospital of pneumonia and septicemia.
Alfred served with the 14th Battalion (Sern 369) as a Private and later with the 5th Machine Gun Battalion as a Sergeant (Sern 467). He suffered a gun shot wound to his left thigh in 1918, had his leg amputated at the thigh and was consequently discharged on medical grounds on 11th November 1918, 4 years to the day after his brother Charles died at sea on the Ascanius.
Walter served with the 13th Battalion (Sern 1515) at Gallipoli and later with the 45th Battalion (Sern 62) in France, he was discharged on family grounds in 1918. The request for Walter to be discharged was made by Alfred. After initially being knocked back it was finally granted. The grounds being the deaths and incapacity of his brothers, his father being hospitalised and an invalid with Brights Disease, and his mother and 4 young sisters being wholly dependent on the earnings of the surviving brothers, Alfred who was an amputee and Walter himself.
RIP.

Kalgoorlie Miner - 24 December 1914

Report on death of Private Charles Willam POWER