Patrick George GREEN, 907 – RTA – ID#
407
A different world
Life in Australia in the 21st century is vastly different to the environment which our World War 1 ancestors knew. Their parents were our pioneers striving to make a life for their families in undeveloped bush regions.Their lives were tough, their sons and daughters had to be forged in steel to survive.
I wonder how many of us would have the sheer grit the average person needed to live in the south west of Western Australia in those early days.
"Peachy" Green respected Turkish soldiers
Patrick George GREEN (on right)
with his mate James Joseph RYAN.
Both from Broomehill, Western Australia.
11th Bn Cheops Pyramid, 10 Jan 1915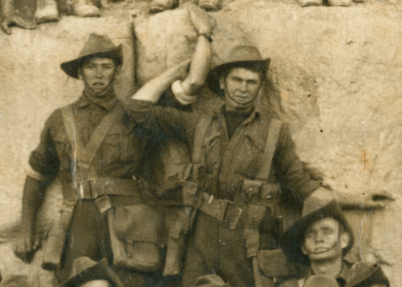 Family background
Patrick George Green (1892-1966) was the second son of Bridget Reilly and George Green, both of whom were first generation Australians born and bred in the south west of Western Australia.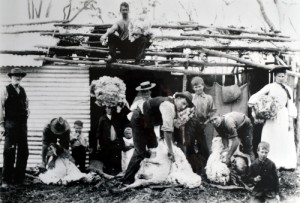 Patrick's mother Bridget was born in 1864 in Kojonup and one of eight children to Ellen Stubbs and Michael Reilly.
Michael was a Pensioner Guard, arriving in Australia on 20 November 1858 on the Edwin Fox, he was posted to Kojonup in the south west.
The image at left shows the Broomehill Farm - the Green Family men shearing c.a. 1903 - George (PG) is the shearer facing camera on the right. (Image courtesy Noreen Baxter)
George's father, George Green, was born in 1867 in Albany the third of six children of Zebulun Green and Beatrice Eleanor Bebbington who arrived in Australia on the Tartar in 1863.
It is believed that when Beatrice died in 1873 (Grave M23 in the Albany Pioneers Cemetery) the older children helped their Father look after the youngest children but George (Snr) at age 6 was sent off to Badgebup (a staging place for the mail carrying coach) to assist with household chores. Amazingly as an adult it was George Green (Snr) who became the family lynch pin.
In 1888 Bridget Reilly married George Green (Snr) in Kojonup, and in 1890 he took up land in Broomehill where they raised their family of 11 children. Bridget died in 1927 and George (Snr) in 1957.
Growing up on the family farm Rosevale just out of Broomehill, Patrick George Green had little time for a childhood or education. All the Green boys were expected to work on the farm.At about 9 years of age young Patrick left school.
Like his Father he was known as George Green but in later years he always signed documents as PG Green, presumably to avoid confusion.
Duty Calls
On 15 August 1914 age 22 Patrick George Green enlisted in the Army at Wagin and on arrival at Blackboy Hill was training camp he was assigned to 11th Infantry Battalion, H Company. After arriving in Egypt the Battalion was reorganized into four Companies G & H Company became to D Company.
Patrick was soon given the nickname "Peachy", presumably from the contraction of PG.
His service records show that in addition to various illnesses, he was wounded four times. He was first wounded on 6 August 1915 on the Gallipoli Peninsula when the 11th Battalion were in action in Leane's Trench and rejoined the unit back at Gallipoli on 18 September 1915.
On 24 July 1916 it was recorded that he had "Died of wounds" at Pozieres, but by 10 August 1916 this was noted as "Previously reported died of wounds now reported wounded only" this was "a GSW (mild) to the chest" which appears to have kept him out of action until February 1917; 21 June 1918 (Mont de Merris) he was slightly wounded but remained on duty; and finally on 10 August 1918 (Crepy Wood) after which he was invalided back to the UK.
He never spoke of his war years to the family, except to say how much he respected the Turkish soldiers; that he had been one of the first to land at Gallipoli, indeed D Company was one of the first units to land on Gallipoli; and that at one time his parents were advised that he had been killed in action.
Peachy, as he was now known, arrived back in Australia and was discharged from the Army on 25 April 1919. His records never mentioned the gassing which caused him, along with most of the WW1 veterans, so many problems in later years. For the rest of his life his physical wounds required treatment but he never complained. Despite his poor health, at the outbreak of World War II he tried unsuccessfully to enlist again.
Back to farm life
Post WW1 he went share farming with his older brother Toby (Herbert) at Peringillup. Toby & his wife provided accommodation for the teacher at the Peringillup school. Newly qualified teacher, Gertrude Holding, was appointed to the one teacher Peringillup school and as frequently happened in rural WA the new teacher met and married a local farmer, in this case, Toby's brother George. About 1932 George & Gert moved to a farm in West Pingelly where their three children were born. With failing health George had difficulty in successfully managing the farm so he was forced to sell up, and the family moved to a smaller property at Wundowie, at the same time he was classified by Veterans' Affairs as Totally and Permanently Incapacitated.
Gallipoli memories
ANZAC Day 1965 - Members of D Company
Gallipoli Landers at Kings Park War Memorial.
"Peachy" Green is 5th from the left.
Image courtesy Ian Gill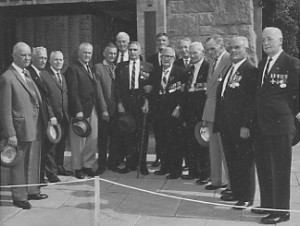 When farming at West Pingelly George attended the Pingelly Anzac Day Service but after moving to Wundowie on Anzac Day he would go bush before dawn only returning home when the lights went out.
In retrospect, the family believes that in the photo on the left of the original D company "Gallipoli Landers" re-union, some of whom were familiar faces from the Pingelly years, while in Pingelly he was with other originals, mates who understood, while at Wundowie he was alone.
His memories were such that he kept them private but no doubt he was with the rest of the originals every Anzac Day.
Those in the photo are (left to right); Dick SAMWAYS, Bert WEBB, Unknown, Wally GOODLET, Peachy GREEN, Frank BAGGS, Horry PENNY, Clem BUTTLE, Bill WRIGHT, Fred ASHTON, Bull EASTCOTT, Chas READING, Ray EARL, Jack SALTER.
A crack shot
Wally Goodlet (909) when writing his recollections of April 25 on Gallipoli at "Baby 700" recalled sharing a shallow dip in the ground with Peachy whilst they fended off a fierce bayonet charge from the Turkish army. Fremantle to France p. 412;

... I thought I was firing fast, but Peachy was like a wizard; he fired nearly two shots to my one. If it had not been for him I'm sure I could never have stopped them...


They both expected to perish, when a runner yelled at them to drop back 150 yards to where the New Zealanders were digging a trench, which they did under fire from the Turks. Both Wally Goodlet & George (Peachy) Green survived Gallipoli.
George was always known as a good shot, with scant respect for anyone who took two shots to bring down an animal, he considered anything less than total accuracy not only cruel but a waste of ammunition. At the Pingelly farm on one occasion as a visitor arrived at the house two shots rang out, just bang bang. The visitor turned to Gert who said:

"That is strange, George never takes two shots to bring down a roo"


She was right. When he came home he had two bagged roos!!
Family service
In addition to Patrick George Green serving in the 11th Battalion, two of his brothers and three cousins also served, they were:
Zebulun Green (726) enlisted 19 November 1914 in the 10th Light Horse;
Herbert Green (459) enlisted 1 February 1916 in the 34th Battalion;
Thomas Henry Priest (1359) enlisted 3 December 1914 in 52nd Battalion, KIA 3/4 September 1916;
George Priest (2434) enlisted 2 August 1915 28th Battalion;
Emmanuel Priest (7531) enlisted 5 February 1917 in the 16th Battalion.
Sadly despite believing the war they fought would end all wars many of their descendants have served and some have died in later conflicts.
Back to Gallipoli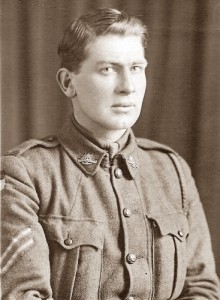 GREEN, Patrick George 907.
Image courtesy Noreen Baxter
Some of George Green's descendants have made the trip to Gallipoli for Anzac Day. Despite being warned by friends that it could be emotional, traumatic etc in 2013 his youngest daughter took his medals to the Gallipoli Dawn Service. What a wonderful experience.
It felt as if George was with his medals and at peace knowing that at last some his family understood what he could never tell them. What a shame that none of us made that link during his life.
The commemorative services always seem to focus on those who died, we should also remember those who return from conflicts to live with their physical wounds and mental scars for the rest of their life.
"Lest we forget"; those who served never could; families who have lived with those that returned never will.
When will all people learn to live in peace so future generations are saved from the horrors of war?
---
Article by Noreen Baxter in consultation with Rhonda Berry, in memory of their Father Patrick George Green.
---