Frederick Noel Gilkinson ARNOT - RTA - ID#
335

"I loved this flag"
It was The Kalgoorlie Miner of Friday 21st August which stated that Fred Arnot had indeed been chosen as one of the last twenty four and that afternoon, led by three pipers and a drummer, he marched to the Kalgoorlie Railway station with his fellow recruits and left on his great adventure, an adventure which was to last four long harrowing and arduous years.
Twenty four more from Kalgoorlie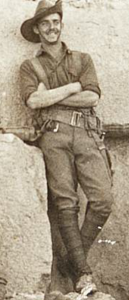 On Monday 17th August 1914, Fred Arnot had been one of the thousands of people who had watched and waved to the large group of new recruits marching to the Kalgoorlie Railway Station accompanied by city bands before departing on the special express train bound for the training camp at Bellevue.
Two days later, he heard that a further twenty four men were required and on Thursday 20th, he was in line at the Kalgoorlie Drill Hall knowing that this was his last chance of being accepted into the Overseas Expeditionary Force as part of the Goldfields quota.
Tall and lean, he knew he was above the height and weight measurements the recruiters were looking for, but with the age requirement being nineteen, he could only hope that he looked at least two years older than his seventeen years.
He saw this as his opportunity to see places far beyond his birthplace of Coolgardie. It was an opportunity for adventure and one that meant he could still support his mother and two sisters now that his father had taken off to far north Queensland.
Everyone said the war would be over in six months and he was desperate to be a part of it before it was too late.
The great adventure
After several months of training, Fred and his fellow members of the 11th battalion entrained for Fremantle and boarded the HMAT Ascanius,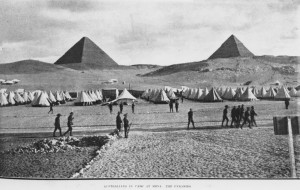 which, after meeting up with the convoy of troopships which had sailed up the coast from Albany, set off for an unknown destination.
That destination was Egypt and it was here in the tent city at Mena that he spent his first Christmas away from home, a tent city not unlike that of Coolgardie which he'd left far behind. Family members have told us that Fred had an Australian flag tattooed on his right arm soon after arriving in Egypt.

He was so proud of that flag; you would see him stroke it at times. As age wearied him he would say,

"I loved this flag but it doesn't look so nice now".

We agreed with him; it had faded and his wrinkled skin no longer held it taut.


That second Sunday in January 1915, Fred was among the 704 men who arranged themselves on the Cheops pyramid for a group photo. With his cheeky grin and a casual stance, he might easily have been posing for a recruiting poster.
Three months later, in April 1915, the war began in earnest for Fred with the landing at Gallipoli. Over the next four years, after seeing conflict in both the Dardanelles and the Western Front, he was to be twice wounded in action and hospitalised on many occasions.
He returned to Australia in October 1918 with the rank of corporal having ended his service as a machine gunner. His great adventure was finally over. He was only twenty one.
Picking up the pieces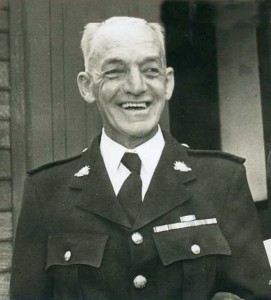 During his absence overseas, Fred's mother had moved to the Perth and he resumed living with her and working on a baker's cart delivering bread. His working day started and finished with feeding and harnessing the horse.
Fred's face carried scars from his war service and he was often embarrassed by his appearance.
This perhaps explains why it was a further ten years after his return from the Western Front before he married Dorothy Kippin, a marriage which was to end tragically twelve months later when Dorothy died giving birth to their stillborn baby daughter.
It was not until a further twenty three years had passed that Fred was to find long term happiness. In 1952 at the age of fifty six, he married a widow, Jess Pearce, and became pivotal to her life and that of her children and grandchildren.
Fred by this time was a Warrant Officer 2 at Swan Barracks and wore his Army uniform and a huge smile on his wedding day. Jess's family takes up the story……

Fred & his Jess were extremely happy. After her first husband's death in 1946 at the family farm at Kulin, Jess moved to Perth. It was there that she met Fred; two love birds, it was gorgeous to see them both so happy. He was loving, affectionate, caring and kind and her children were delighted that these two lonely people had found one another.


Warrant Officer 2 Fred Arnot at Swanbourne Courtesy Pearce Family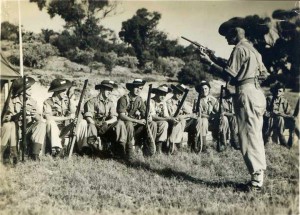 Fred they described as friendly, private, polite and well disciplined, and one who would speak his mind if he thought the occasion warranted it. He was however, slow to take offence and got over disagreements quickly. He was always interesting to chat with, but never talked of himself or the war. Fred and Jess lived in Hampden Road, Hollywood and were active members of the Hollywood Bowls Club where Fred managed the Club Bar.
He died on 6th September 1972 and his memorial is a plaque on a niche wall at Karrakatta Cemetery. His beloved Jess followed him some nine years later in 1981.
Could there be a more eloquent closure to the story of Fred Arnot than the words penned by his step granddaughter, Julie Christoffersen?

I was shown the photo of the 11th Battalion AIF - Cheops by my Poppa.

Using a magnifying glass he pointed himself out to me and my sisters on one of our visits. I remember talking with Poppa about the tattoo of the Australian flag on his right forearm & all that it meant to him serving for our country.

These are special memories that I have of this lovely man who we all adored.


---
With sincere thanks to Pat and Wally Pearce and families for sharing their memories of Fred Arnot with us.
Written by Julie Martin: researched by Beverley Russell
Sources
National Library of Australia Trove (http://trove.nla.gov.au)
National Archives of Australia (www.naa.gov.au) (includes Service Record, for Frederick Arnot)
Ancestry (www.ancestry.com)
Australian War Memorial (www.awm.gov.au)
Perth Metropolitan Cemeteries Board (http://www.mcb.wa.gov.au
---