William Deas Lumsden - KIA - ID#
382


There was a soldier, a Scottish soldier
Who wandered far away and soldiered far away
There was none bolder, with good broad shoulders,
He fought in many a fray and fought and won


Leaving behind a large family of siblings, young William and older brother Tommy Lumsden decided to try their luck in Albany, Western Australia.
From Scotland to Australia
William Deas Lumsden on the Great
Pyramid ID#382[/caption]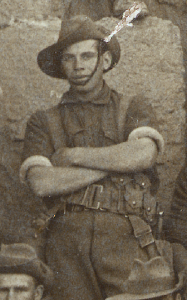 Born in 1892 in the ancient Scottish town of Linlithgow, William Deas Lumsden was one of the eight children of Margaret and James Lumsden, the latter a joiner who had worked on the construction of the Forth Rail Bridge.
The eighteen year old Willie and his older brother Thomas, emigrated to Australia in early 1910. They sailed from Leith to London, spent two days with relatives and then boarded the SS Armadale at Tilbury Docks. Their journey took them through the Bay of Biscay, Tenerife, Cape Verdi and Cape Town and then across the southern Indian Ocean before finally arriving at Fremantle, Western Australia on the 1st July.
Tall and well built, Willie distinguished himself more than once at sea as a member of the unbeaten Scots heavyweight team in tug-of-war matches. Willie and Tommy found work as farm labourers and settled in Albany on the south coast of Western Australia.
When Great Britain declared war on Germany in August 1914, Willie was amongst the first at the local recruiting hall and was selected in Albany's quota of thirty men. The West Australian of the 17 August 1914 told of the men's farewell from the port town

Albany's contribution to the Western Australian contingent of the Australian Imperial Expeditionary Force left by train for Perth to-night and their departure was the occasion of an enthusiastic public demonstration at the railway station.

The volunteers, who number thirty, were marched from the drill hall headed by the Albany band. The whole town turned out and an immense crowd followed the men through the streets. The station platform was thronged and outside the station yard was filled with excited people. The band continued to play until the departure of the train which steamed away amidst terrific cheering. As anticipated, the number of applications received exceeded 110.

The work of medical examination started yesterday and the train this morning brought ten men from the country. Several of' these passed the doctor and although they did not know of their selection till this afternoon, they left with the others.
At Blackboy Hill to the east of Western Australia's capital city, Perth, Willie signed his attestation papers and was assigned to H Company of the 11th Battalion with the Service Number 924.
After months of training, the order to 'break camp' was finally given in October 1914 and the 11th Battalion entrained to Fremantle where Willie boarded HMAT Ascanius. This troopship along with the HMAT Medic waited in Gage Roads for several days until the convoy of ships, which had formed and sailed from his adopted home town of Albany, reached Fremantle. Protecting one another they began their journey across the ocean for an unknown destination.
Australia to Egypt and beyond
In late November, Willie, aptly nicknamed 'Scotty', learned that the convoy was headed for Alexandria rather than England and what followed for the men of the Australian Imperial Force was Christmas 1914 in Egypt followed by two months of solid training at Mena Camp outside of Cairo. Willie takes up his story in a letter to his father

7.5.15 2nd General Hospital, AIF, Cairo Dear Father Just a few lines to let you know how I have been getting on since I wrote last in Egypt. Well we left Mena nine weeks ago on a Sunday and went to Lemnos. There we lay in the harbour for about eight weeks going ashore nearby everyday which proved to be a great part of our training for every man was a sailor and knew exactly what to do in the landing of troops.

So, on the 24th of April we left Lemnos and went to Tenedos. There we disembarked into destroyers then we left for Turkey land towing enough of small boats to take us ashore, well we got there at day break and we were welcomed with a shower of shrapnel and the machine gun fire was something terrible, although in our boat no one was hit but the bullets was dropping all round us and two boats of our company was riddled and not a single man got ashore.

When we got stuck on the beach we got up to the neck in it and paddled on as well as we could and when we had a good footing we fixed bayonets and charged up the hill something of this / grade covered with scrub but the Turks didn't wait for us, they bolted leaving everything but their rifles and where the Division had got three days to advance too, our Brigade got there by ten o'clock and passed it , but we soon found we had gone too far and had to retreat back to the top of the ridge which we held till the rest of the Division came up in the afternoon.

Monday and Tuesday they gave us hell with shrapnel and counter attacks but were all repulsed and on Wednesday it was like a Sunday nothing doing at all. Thursday was much the same, but on Friday they were preparing for a final flutter, they had worked round on our right in the night time and concealed machine guns which enfiladed our trench and by six at night nearly every man had been killed or wounded, me included, and they took possession of it and held it for five minutes and then our supports chased them out of it and I believe we have been holding them easily since.

Now for what life is like in the trenches, well I went in on the Sunday and never got out again till the bullet relieved on the Friday. We were pretty hard hit for the want of water and tucker. The first water that was sent in was on Wednesday morning. We never had a sleep for the Turks kept at us all night and creeping up to the trenches and throwing hand bombs and the German officers used to come right into our lines and give orders.The snipers are good shots. They are hidden in the scrub and also dug in.

I think this is all hoping this to find you all well as it leaves me in the pink and the time I will be amongst it.

Your affectionate son
Willie
I was shot through the armpit.


William's final resting place, Linlithgow, Scotland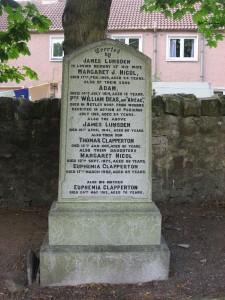 Following his recovery, Willie returned to Gallipoli in June and served there until the final evacuation in December.
Early in the following year, the men of the 11th Battalion sailed for Marseilles on the SS Corsican arriving in April of 1916. Willie was able to take some leave and return to Linlithgow for a short stay - sadly for him and his family, this was to be his last goodbye.
It was thought that during this furlough he left behind with the family, his print of the photograph of the 11th Battalion on the Great Pyramid of Cheops.
On May 19, the 11th Battalion proceeded to the trenches and in what was considered a normally quiet sector, a heavy artillery raid was encountered. Willie was wounded in action at Pozieres in July 1916 and lay unattended for a long time before stretcher bearers, under great pressure finally reached him.
He had been shot in the chest and groin and was taken by the Hospital Ship St Andrew to England where, on 30th July, he was admitted to Royal Victoria Hospital at Netley, Hampshire.
He died the following day before his sister Margaret, a nurse in that region, could reach his bedside. Willie was laid to rest at the Netley Military Cemetery but later at his father's request, was exhumed and sent home to Linlithgow for burial in the family grave.

And now this soldier
this Scottish soldier
Who wanders far no more,
and soldiers far no more
Now on a hillside,
a Scottish hillside
You'll see a piper play
this soldier home


Thomas Clapperton Lumsden
Thomas Clapperton LUMSDEN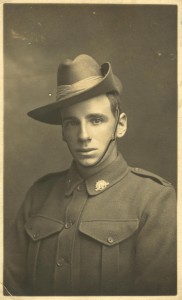 Willie's brother Thomas (Tommy) joined the 10th Light Horse Battalion in January 1915 and sailed from Fremantle with the 5th reinforcements. He landed at Gallipoli in July of that year and was on the strength of the 10th at the time of the attacks on the Nek and Hill 60.
During his time on Gallipoli, he wrote to one of his three sisters telling her that he 'had a good yarn with his brother Willie a fortnight ago. Looks pretty fit.'
After his evacuation from Gallipoli, Tommy served as a driver in both the 4th Divisional Artillery Column and the 11th Field Artillery Brigade and returned to Fremantle in 1919.
Tommy attempted to farm a small property sixteen miles west of Denmark, Western Australia but without the help of his brother, the venture failed. He returned to the city and settled in Fremantle, working on the docks until his death in 1955.
Tommy never married and remained greatly affected throughout his life by his brother's wounding at Pozieres and subsequent death.
---
With gratitude and thanks to Norman Dowie of Linlithgow, Scotland, great nephew of William and Thomas Lumsden for sharing his great uncles' stories with us.
Edited by Julie Martin
Lyrics for 'A Scottish soldier' by Andy Stewart.
---