Ernest John Ingram - RTA - ID#
221

God gives his hardest battles to his strongest soldiers....
Ernie Ingram was having one of his best football seasons. Frequently mentioned amongst the most valuable players on ground, he was looking forward to playing in the finals and his team, the Narrogin Railways Club was on target to repeat its 1913 premiership win.
It took only a half column headed WAR on page 5 of the local newspaper of 7th August 1914 to make a dramatic change to Ernie's plans, not only for the footy finals but for the remainder of his life.
Pre War days
Ernest J Ingram ID#221
Twenty two year old Ernie's childhood had been somewhat turbulent. The middle child and third son of Edward and Elizabeth Ingram, Ernie had been born in York, Western Australia in 1891. Just prior to Ernie's birth, his father, a man with aspirations and entrepreneurial flair had shrugged off the life of a railways employee and purchased the licence of the York Hotel. He had also leased the local brickyard and stood successfully for election to the local council.
Over the next nine years, Ernie was to move from town to town, as his father repeated the pattern of leasing hotels and standing for election to municipal councils – York was followed by Bunbury, then came Fremantle and finally the family moved to Perth, the capital city of Western Australia.
By then however, Edward was out of his depth and suffered a public fall from grace, being declared bankrupt in 1899 after unsuccessfully taking over the Cremorne Gardens and Hotel in Murray St, Perth.
Ernie's parents separated and the five children resided with their mother in Aberdeen St, Perth.
War is declared
When 1914 dawned, the eldest boy Edward George Jnr, known by all as George, had left the state and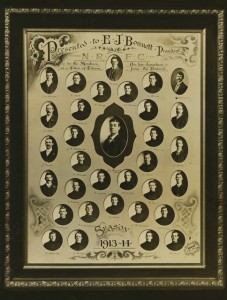 was working in New South Wales as a miner. The second son, Victor was living and working in Perth whilst Ernie was employed as a plumbing assistant in Narrogin having spent some time previously working in Collie.
Ernie had joined the mounted militia regiment, the 25th Light Horse on his arrival in Narrogin and this no doubt helped fire his enthusiasm once War was declared and recruiting for the Australian Imperial Force began.
When the Narrogin Railways football team ran out on the ground on Sunday 13th September 1914 to successfully win the premiership by 13 points, team mates Ernie Ingram and Lew Whitford were absent, encamped at Blackboy Hill having already taken the oath to serve the King as members of the 11th Battalion until the end of the war.
In late October of the same year, the battalion entrained to Fremantle and Ernie's company boarded the HMAT Ascanius which eventually met and merged with the convoy of troopships which had sailed around the south coast of Australia.
The word was that they were on their way to England and the troops settled in for the long voyage.
Egypt and beyond
Egypt however proved to be their destination and an exotic and challenging one it was with frequent dust storms, cold nights and endless marches through the desert sands.
It was at Mena Camp outside Cairo that Ernie and his battalion trained for three months and it was here that Ernie met up with his eldest brother George, who had joined the 13th Battalion commanded by Colonel John Monash.
As the month of March began, the 11th Battalion boarded the HMT Suffolk bound for Mudros Harbour on the Greek island of Lemnos which was being used as a base of operations for the assault on the Dardanelles. Ernie, whose battalion was part of the 3rd Brigade, was amongst the covering force which stormed the beach at Gallipoli at 4.30am on 25th April 1915.
In the early afternoon, just as his brother's battalion was landing at Gallipoli, Ernie was shot in the left forearm and evacuated to the 1st Australian General Hospital at Heliopolis, Greece.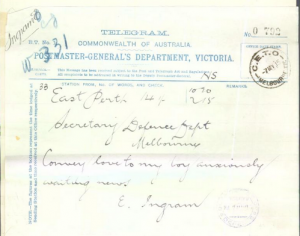 As soon as she received the news, his mother Elizabeth telegraphed the Defence Department

Convey love to my boy. Anxiously awaiting news.
E Ingram


After six weeks Ernie re-joined his battalion at Gallipoli only to be wounded for a second time and was sent to England on the hospital ship Asturias for treatment.
It was whilst he was convalescing in England that he learned that his brother George had been killed in action at Lone Pine, Gallipoli on 9th September and that his remaining brother Victor, still at home in Western Australia, had enlisted in the 28th Battalion a mere five days earlier.
Ernie re-joined his battalion on the Gallipoli Peninsula in early November and was part of the final evacuation in late December, arriving back in Egypt on New Year's Day, 1916.
The next three months were as though history was repeating itself. One year on, Ernie again found himself in Egypt, the same location as his brother, although this time it was his second brother Victor who had newly arrived in Egypt with his battalion.
When April 1916 came, Ernie, newly promoted to Corporal had moved on to Marseilles with the 11th Battalion
and was headed for the Western Front.
Two months later, his brother Victor also arrived in France and on 19th July after one month on active service, met his death at Fromelles.
The following week, Ernie was critically wounded during the Battle of Pozieres and his mother informed that he had died of wounds. Within a seven day period, she had received notification that both her remaining sons had died in battle.
It was to be another thirty days before she learned that Ernie was not dead but severely wounded. Taken to England and admitted to the Royal Victoria Hospital at Netley near Southampton, all efforts were made to heal his wounds however they remained unresponsive to treatment and by December 1916, his left leg was amputated above the knee. Ernie was not to see Australia again until August, 1917 and by October of the same year had been discharged from service.
In the three turbulent years since he enlisted in the AIF and missed the football finals in Narrogin, twenty five year old Ernie had lost two brothers and most of his left leg.
Soldiering on
He was to find some happiness however, meeting and marrying a young Irish girl, Eva Moore in October 1918.
He and Eva, who set up their home in East Perth, cared for Ernie's father, Edward who had become incapacitated by alcohol and who later died in 1921.
Ernie retrained as a dental technician, however, over time, nervous tremors and other war related conditions severely compromised his ability to undertake fine denture work. It was through the benevolence of Sir Frank Boan that he found work as a lift attendant in Boan's Department store in Perth and soon became well known for his friendliness to all who patronised the store. He became a valued and popular staff member and remained in employment there until his retirement in 1962.
Over the years his love of sports remained strong and he participated in ex- servicemen's sporting activities, predominately swimming events held at Claremont Baths where he was well known as the local swimming champion amongst amputee veterans.
In 1934, Ernie's mother Elizabeth passed away and in an obituary published in The West Australian further tragedy in her life was revealed.

Mrs Ingram was of a very cheerful disposition and a devoted mother to her children and in spite of her long and painful illness, brought about as a result of an accident, remained cheerful to the last.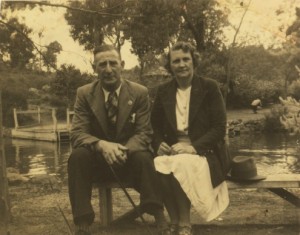 The Catholic priest who officiated at her graveside was Father John Fahey who as chaplain of the 11th Battalion had served alongside Ernie both at Gallipoli and on the Western Front. Ernie and Eva took great pride in their two daughters, Constance and Doreen who were educated by the nuns at Our Lady's College, Victoria Square and who went on to marry and give them the joy of five grandchildren.
At the age of 78 and surrounded by his loving family, Ernie passed away after suffering two strokes in quick succession.

God gives the hardest battles to his strongest soldiers.


Ernest John Ingram was assigned some of the most difficult challenges in life and grappled with them with strength and character.
---
Our thanks to Ernie's grandson, Geoffrey Bone for generously supplying photographs and details of Ernie's life.
Researched and written by Julie Martin
Sources
National Archives of Australia (www.naa.gov.au)
National Library of, Australia. Trove (http://trove.nla.gov.au)
Australian War Memorial (www.awm.gov.au)
---