Alvared Roe Cecil CLIFTON - RTA ID#
184
Selfless to a fault
... tall, strong, suave and unperturbed, selfless to a fault, (he) was held in high esteem by his comrades ...
In his memoir of the 1914-1918 war years, George Medcalf described his 11th Battalion friend Alvared Clifton thus
It would appear that Alvared or Alvie as he was known, was not only selfless but completely lacking in affectation. On the attestation paper he completed when enlisting for military service abroad, he wrote but one word 'labourer' in answer to question 5 - What is your trade or calling?

To him, 'labourer' was a perfectly adequate and worthy description of what he was. Alvie loved working the land, in particular the land in the south-west of Western Australia. When war was declared and the call went out for men to enlist in the Australian Infantry Force, he was in the employ of the Department of Agriculture, working at the State Farm near Wokalup as an apprentice irrigationist.
Family background
Alvie's pedigree was impressive, containing the surnames of most of the 'first' families of Western Australia. He was one of the eleven children of the close-knit and loving family of Robert Cecil Clifton, (Under Secretary of Lands) and Rose Leake, daughter of George Walpole Leake, QC, MLC, the former Acting Chief Justice. With his parents and siblings, Alvie was often a guest at functions held at Government House.
His great grandfather was Marshall Waller Clifton, Chief Commissioner of the Western Australian Land Company who, along with his family were the first settlers of Australind in the south west region of Western Australia. Alvie's uncles occupied the positions of Under Treasurer and the Surveyor General in Western Australia. In fact, about twenty of them held senior offices in the public service at one time.
Alvie was born on New Year's Day, 1890. He and his three brothers were educated at Hale School, known at the time as High School and when war broke out, he and his older brother Edmund volunteered to serve King and Country. Alvie was accepted however Edmund, who went on to occupy a senior position in what is now known as Landgate, failed the medical examination. Alvie's younger brother George had to wait a further twelve months before he could enlist.
Ready to serve
Following his enlistment, Alvie was assigned to the 11th Battalion.
His only daughter Elizabeth recalls
'He was sent to Blackboy Hill to do his training and he sometimes spoke of that with affection'
After several months, the 11th Battalion marched out from Blackboy Hill and entrained to Fremantle where they boarded the troopships, Ascanius and Medic. After several days, the ships left Australian waters and four weeks into the voyage the men were informed of their destination. They were to disembark at Port Alexandria, Egypt and then proceed to a military camp located at Mena just outside of Cairo.
His friend George Medcalf recalled
"He (Alvie) at all times was possessed of a camera with which he was constantly snapping scenes with doubtful results. Gradually however, he accumulated a fine collection of pictures".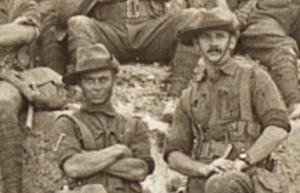 Although none of Alvie's photographic efforts during 1914-1915 appear to have survived, he certainly featured in a number of group photographs taken between August 1914 and the landing at Gallipoli on 25th April 1915. He also appeared in the photograph of the men of the 11th Battalion on the Great Pyramid standing alongside another of his close friends, Charles Prockter, who was later mentioned in despatches prior to being killed at the Dardanelles.
While Alvie was dug in at Gallipoli engaging with the Turks, his younger brother George, having received his father's written permission to enlist, sailed for Alexandria with the 28th Battalion.
At the end of July 1915, Alvie, recently promoted to Corporal, was wounded in action. His daughter recalls what her father told her about that day
"He didn't ever discuss the horrors of war but did tell me how he got wounded. He said the Aussies were only about 20 yards from the Turks and both sides were throwing grenades into each other's trenches and the Aussies would catch them and throw them back. One which was thrown from the Turks trench was caught by the fellow standing beside him and before he could throw it back it exploded, killing him and injuring four others, including Dad.



He was covered in pellets of shrapnel in his leg and body but the main damage was his eyes and he was eventually shipped to Cairo where they removed the right eye and didn't know if the left one could be saved. His brother George having just arrived in Egypt visited him in hospital.



When they got him out of his uniform they discovered his pay book was in the upper left hand pocket of his jacket. The pocket was torn badly and firmly embedded in the pay book was a jagged piece of shrapnel roughly about an inch square. Dad was certain the pay book had saved his life and he brought it and the torn jacket home.



I remember seeing both the items as a child. He carefully removed the shrapnel and gave it to his mother who had it mounted with a gold surround and chain and wore it always. When she died it was given to one of her daughters and when she in turn died, it came to me. I never wore it but kept it in my jewellery box and there it remained.

Many years later we were burgled and all my jewellery was stolen including that memento".
A sad homecoming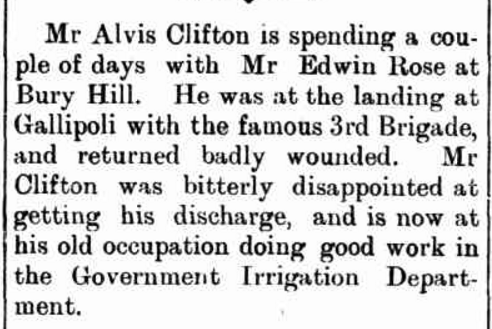 Alvie arrived back in Fremantle ten months after leaving Australia with the 11th Battalion and was formally discharged from the AIF in May 1916.
Meanwhile, his brother George, having been transferred to the 2nd Signalling Company, served in Egypt and Gallipoli as an NCO and at the time of the evacuation from the Dardanelles was retained on duty after most of his company had left. He was among the last to leave.
George went on to France and served there till November 1916, when he was selected with a number of others for training in England for the Royal Flying Corps. He received his wings and commission in April 1917 and was engaged in ferrying aircraft to France. On one such trip he was injured when his plane crashed and later died in a French military hospital, only five months after his twenty first birthday.
Alvie, following his repatriation to Western Australia, spent many months of each year in hospital. Eventually doctors were able to save the sight in his remaining eye but the fragments behind it were unable to be removed.
Elizabeth again takes up her father's story
"For the remainder of his life his left eye presented problems. At least once a year it would flair up and he had to stay in a darkened room with two hourly drops being given until the pupil started to dilate again. Each time we would wonder if it would recover or if he would become completely blind.

My mother Viola Dix , known always by the nickname Dixie, came out to Australia in 1923 with a group of work friends who thought it would be fun to do the two year trip for ten pounds. They had to commit to staying the two years or if they wanted to return they would have to pay back the full fare. Unfortunately all the friends decided to go on to Victoria and when Mum landed in Fremantle she was quite alone, knew no one and was dreadfully homesick. She chose to work in a small hospital in Adelaide Terrace not far from Dad's family home and it so happened that he was having a very bad period with his eye problems and his doctor put him into hospital for treatment. His eye was totally bandaged and Viola, his English nurse took pity on him. Having no home to go to she undertook to sit by his bed and read to him on her days off duty.

And, as they say, the rest is history.

He would say he fell in love with her voice and proposed to her before he had even seen her, He was 33 and she was 21. They married in 1924, had three sons, Alvared Jnr, Peter and Robert and one daughter, me, Elizabeth. The first born Alvared Jnr. lived only two days.

A Civilian life again

After his discharge from the Army, he returned to work at the Department of Agriculture and eventually became Officer in Charge of Irrigation for the South West, with an office in Perth and one in Harvey.

Koombana Bay Australind
Watercolour painting by Louisa Clifton, great Aunt of Alvie Clifton

He would go to work in Perth on Monday, to Harvey from Tuesday to Friday and return to family on Friday evening. I think he loved the freedom of his lifestyle but it was hard on Mum as I think we were pretty naughty children.

When World War was declared for the second time in 1939, he decided he would join up in any capacity that he could and I remember him saying a friend of his was in charge of enlistments at Karrakatta and he would go and see him and was sure they would find something for him.

I recall him coming home utterly dejected saying he had just completely wasted their time and what a fool he had been. He became an air raid warden and Mum, Dad and I went to first aid lectures given by the St John Association. We then sat our exams and all passed. He then built an air raid shelter in our front lawn which was never used, a blessing because it was never completed!!

In 1942, he was one of a group sent to the Ord River to report on the feasibility of building a dam. He told us that he had to swim a crocodile infested river to get to the wharf to catch the ship back to Perth. He slept the entire trip on the deck as the ship was packed with men and women fleeing after Singapore had been surrendered to the Japanese.


In later life, he bought a small farm at Burekup but eventually sold it and used part of the proceeds to buy a washing machine for my mother.

'Served the state so well'

Dad took early retirement as his health was not the best and his sight was always a problem. Even in retirement he kept on helping where he could. He supervised the irrigating and draining of the WACA and would not accept any payment. The Association gave him a life membership but he never made use of it

In the nineteen fifties, he became very involved with Fairbridge, a farm school for orphaned migrant children near Pinjarra. On one occasion, he was helping with the drainage of their sports field and being very independent, didn't wait for assistance and started lifting heavy drain pipes into place. It was there he had a heart attack and despite being rushed to the Pinjarra Hospital, he died four days later on November 29, 1952. Dad was buried at Australind in his beloved South West. He was only sixty two.

Dad was always strict with us but had a keen, quiet sense of humour"
The final words
The Bunbury newspaper, The Blackwood Times, published an obituary on 31 December 1952 and the following is an excerpt
..… Mr. A. R. Clifton was born in Perth and latterly lived at Cottesloe and was connected with the Kingsley Fairbridge Farm School in an advisory capacity. When able to relax he often spent part of the summer on a family property at Australind. His work as an irrigation expert for the Department of Agriculture brought him frequently into touch with settlers in Harvey and surrounding district and he was instrumental in putting the Ord River research station on a proper footing, his technical advice in this matter being of considerable importance.

The late Mr. Clifton achieved considerable popularity with the settlers with whom he came in contact and the great service which he rendered the State was reflected in the large crowd at the funeral which was attended by the superintendent of dairying (Mr. M. Cullity), the present officer in charge of irrigation (Mr. H. K. Gibsone) and other high-placed Government officials.

He served at Gallipoli during the first World War and was wounded, losing the sight of one eye. He was a well-known Freemason but perhaps his greatest claim to distinction — a claim which other members of his family shared — is that he inherited the pioneering spirit of his ancestors and was always bent on applying his knowledge and experience where it could do most good.

It is fitting, in view of the interest in the South-West that he retained all his life, that his remains should have been interred in the Anglican portion of the Australind cemetery, along with the remains of those other pioneers who have served the state so well".


---
Our thanks to Liz Tempest, only daughter of Alvared Roe Cecil Clifton for sharing her memories of her father with us.
---
Edited and researched by Julie Martin with additional research by Judy Purkiss