Bernard Rourke ALSTON, 626 Private - RTA - ID#
535

'... a merry scamp'
A Twist of Fate
Our paternal grandfather Bernard Rourke ALSTON enlisted into the First AIF at the Kalgoorlie Drill Hall on 15 August 1914.
It was by a twist of fate that he was in Kalgoorlie at the time War was declared as he was not a native of the West. Bernie hailed from Alexandra, a beautiful pastoral district in the foothills of the High Country in Victoria. He had followed two of his elder brothers (Henry & Percy) who had already made their way to the West for work. In August 1914 Bernie was a clerk in the Union Bank at 189 Hannan Street. He had just turned 22.
Bernie Alston fitted the bill: single, fit and healthy and just the right height and chest expansion; a fresh complexioned fellow without a single distinguishing scar or mark on his fine young body.
On page 6 of the Kalgoorlie Miner dated Monday 17 August 1914 Bernie is listed among those lucky enough to be selected in the first quota of recruits from the Goldfields. Also listed are four mates with whom he would spend the early days. There were two other bank employees; 22 year old James Clifford Hilliard and 21 year old Daniel 'Mac' McCallum. There was 24 year old grocer John Patrick 'Jack' O'Neill and there was James Murray 'Jim' Aitken, a 23 year old accountant with the Kalgoorlie firm R. D. McKenzie & Co.
All five were signed up that day with the rank of private though that status was about to change. Fate already had plans for these five young volunteers.
In the late afternoon of the 17 August, escorted by both the local Kalgoorlie Pipers' Band and young Cadet Buglers and to the cheers of a huge crush of well-wishers, the new recruits marched from the Drill Hall to Kalgoorlie Station. A specially laid on troop train later that evening would take these rookies to their training camp at Blackboy Hill just outside Perth…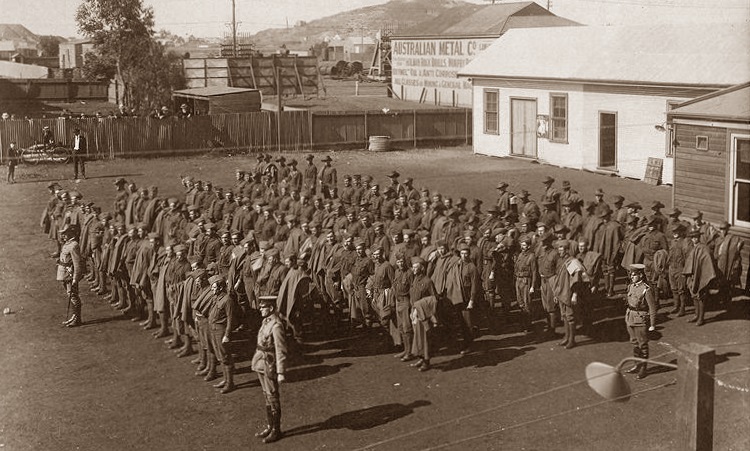 Photo courtesy Goldfields War Museum (Kalgoorlie) (Supplied)
and so the die was cast....
One of the first Australian infantry units raised for the War was the 11th Battalion out of Blackboy Hill. Bernie and his cohort were all posted to its 'F' company, the 'fighting Fs' as they were soon styling themselves.
Bernie and pals.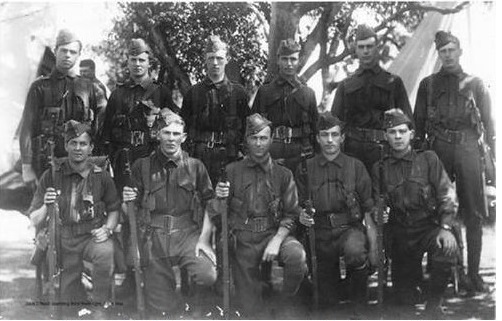 Photograph on left taken 11 September 1914 at Blackboy Hill in their newly issued uniforms.
Back row from left: Jim Aitken, Dan McCallum, James Hilliard, Jack O'Neil, Stan Williams, Bill Reeves.
Kneeling: Harvey Edwards, Bernie Alston, Wallie Scott, Jack Williams and Jim Palmer.
(Source: Western Mail 23 December 1937 p9)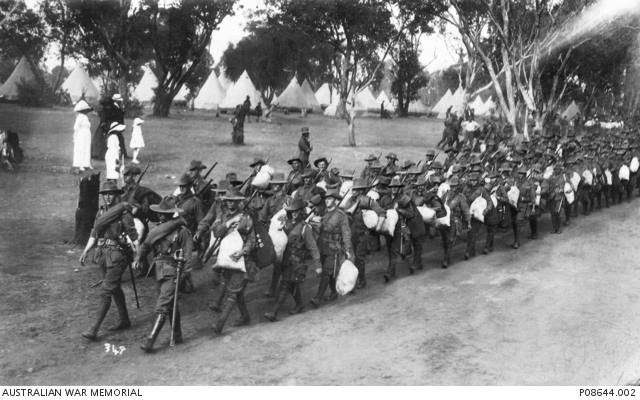 On 31 October 1914 embarkation orders came through. The men marched for the last time on home soil to Helena Vale Station where they entrained for Fremantle. At Victoria Quay they were shipped aboard their transport HMAT (A11) Ascanius. By 2 November they were on their way to war.
11th Battalion marching out of Blackboy Hill.
(per Australian War Memorial - P08644.002)
Egypt calls
As the camps in the UK were not yet ready for these men they were to train in Egypt instead. They docked at Alexandria on 5 December 1914. For logistical reasons no shore leave was granted but that would never do this lot, having just spent the past five weeks at sea. That night most of the 2000 odd on board broke ship and hit the town. Remarkably everyone to a man answered roll-call the following morning. Even more remarkably, the authorities turned a complete blind eye as no disciplinary action was taken.
For Bernie this was just the start of the high jinks. On Christmas Eve 1914 he, Mac (McCallum) and Jim (Aitken) went in to Cairo for a few hours leave. Well into the wee small hours our threesome had missed the last tram back to Mena and had only 10 piastres (2 bob) left between them. Somehow they found a cabbie willing to take them to camp. It then took a lot of ducking and weaving to slip by the guards to their tents. By now it was about 5 am, well passed the 11pm curfew. No doubt they all fell into their tents laughing their heads off.
Things would continue in this vein for Bernie:



Lines from a letter preserved by the Australian War Memorial written by Jim Aitken to his beloved mum.
Not so for Jim Aitken however. After that Christmas Eve incident he promised his mum he would knuckle down and that he would be setting a better example from then on.

On New Year's Day 1915 the former [Australian Army] system of 8 companies to a Battalion was contracted to 4 [under the British system] and with that Bernie and friends were assigned to 'C' company.
As is now well documented, after Church on Sunday 10 January 1915 all the boys of the 11th Battalion at Mena were organized for a souvenir photo shoot. They were marched out of camp to Giza and all clambered up the sides of the Great Pyramid known as Cheops ('Kee-Ops') to find themselves a possie.
The idea was a stroke of genius. The atmosphere in the desert made for great clarity and in a blink that poignant moment was captured. The lads found it all a bit of fun and a welcome distraction from the usual humdrum of camp life in the desert. Bernie, identified as soldier ID#535, looks at ease with the world.
Jim Aitken sent a copy of the Cheops photo home to his mother pointing himself out at ID#207 (below)

Fortunately for us he also pointed out Mac ID#205 (below left) and James Hilliard at ID#206 (below right)


Jack O'Neill has been identified by his family members as soldier ID#616 (below)

By the middle of January Jim Aitken and Dan McCallum began to distance themselves from Bernie and his antics.
LEMNOS – COURTS MARTIAL
After many weeks of arduous training in the mind-numbing desert sands the pace began to quicken. On 2 March 1915 the 11th Battalion embarked HMS Suffolk at Alexandria and sailed for the Greek island of Lemnos in the Aegean Sea.
Though they hadn't yet been informed, most had realized by now that they were heading off to fight the Turks in the Dardanelles and were not going to France to fight the Hun. The men were confined to their ship for weeks on end in Mudros Harbour. It was too much for some ...
Bernie and several others decided to break ship and sneak by boat to the mainland of Lemnos (Aitken letters). They were all caught and put in the 'clink'. Whilst in detention Bernie was then charged with insubordination. He and fellow inmate Clayforth Hey (11th Bn) were charged with disobeying a direct order whilst on active service. They attended their courts martial at Mudros on 14 March 1915 and were sentenced to 3 months Field Punishment No1.
Both men's sentences were then commuted to 5 weeks by order of the commanding officer Brigadier Ewen G. Sinclair-MacLagan. Bernie and Clay were released on 21 April 1915. It was probably the luck of the timing. Departure for Gallipoli was now only days away and every able-bodied soldier was needed. Certainly this was good news for one young rascal.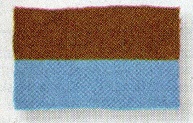 It was also on 21 April 1915 that the 11th Battalion's distinguishing colour patch, a rectangle of chocolate brown over saxe blue, was issued to all the men.

The 11th Battalion was to form the first wave of infantrymen ashore at Gallipoli. 'A' Company and Bernie's 'C' company were to be part of the first line. At about 3am on 25 April 1915 the lads quickly and quietly descended the rope ladders to the tows waiting below. This was the moment they had trained so hard for. Now it was game on.
Bernie made it through the Gallipoli dawn Landing and stayed safe for the next few weeks. It was during the Turkish counter-offensive on the 19 May that he was 'knocked' for the first time. Perhaps the impact bowled him over as his record states he suffered 'a severe gunshot wound to the right arm and paralysis of the upper chest'. He was immediately evacuated off the peninsula to hospital in Alexandria. He was not discharged back to his unit until a month later on 29 June 1915.
After an exhausting tour of duty on Gallipoli that lasted almost 7 months the 11th Battalion was finally relieved on 16 November 1915 and sent back to Lemnos for a much needed rest. The Battalion was not involved in the mass evacuation of the Anzacs from the Peninsula a month later on 19th December. All the men were to spend a very bleak Christmas that year on the island.
TEL-EL-KEBIR
At the close of the Gallipoli campaign the 11th Battalion returned once more to Eqypt for re-grouping and more training with the rest of the 3rd Brigade.
Early January 1916 they found themselves not in their Mena camp of old but rather in a more remote part of the desert called Tel-El-Kebir, deliberately garrisoned away from the influences of Cairo. Specific training battalions had been established and that of the 3rd Brigade was to be the 3rd Training Battalion.
During this phase the original two divisions of the First AIF were to expand to four divisions. This was to be achieved by a doubling of all the battalions. Half the experienced Gallipoli veterans would remain with their original unit and half would go to the new 'sister' battalion. All the battalions were then to be brought up to strength with new reinforcements.
Bernie was not at Tel-El-Kebir with his battalion when this was taking place. For reasons that are unclear he had been seconded to the District Headquarters in Alexandria which he took up on New Year's Day 1916. It was during this time he was stationed at Alexandria that he contracted gonorrhoea. He was admitted on 26 February 1916 to the Venereal Ward in the 17th General Hospital for treatment.
Though he did not yet know it, for Bernie it was now goodbye to his beloved 11th. In the battalion shake-up he and Mac had been moved to the 51st Battalion (A Coy 13th Brigade 4th Division). Jack O'Neill and Jim Aitken stayed with the 11th. James Hilliard had already been repatriated to Australia.
Due to his lengthy hospital treatment Bernie missed the first parade and the march out of his new unit from Tel-El-Kebir to Suez which took place on 1 March 1916. He was eventually discharged from hospital and with yet another black mark on his copybook joined the 3rd Training Battalion in the desert on 4 May 1916.
Bernie was officially transferred to his new battalion on 20 May 1916 and on 7 June 1916 left Alexandria for France. For the next 5 weeks he remained at the 4th ADBD (Australian Division Base Depot) at Étaples for training he had missed. As part of a draft of 130 other ranks he was finally taken on strength of the 51st Battalion on 23 July 1916 and moved up the line in readiness for the next show. (Family lore says that Bernie was also gassed. It must have been about this period of time. Gassing was seldom recorded.)
MOUQUET FARM
The Somme Offensive had been underway since 1July 1916.Phase 3 was scheduled for the night of 14 August 1916. The whole of the newly created Australian 4th Division was to take part in this all-out assault on Mouquet Farm.
The objective for Bernie's 51st Battalion was the heavily defended 'Fabeck Graben' (High Trench) on the right flank of the farm a mere 400 yards in front of the Australian front line. Zero hour was set for 10pm. At about 9pm the lads of the first wave made their way to the shallow jumping-off point where they crouched and waited. Dan McCallum had been promoted to lieutenant of Bernie's No 1 Platoon. At the appointed hour under Mac's very capable leadership the boys hopped the bags… straight into all kinds of hell.
(Bernie's)… 'A' company advanced a mere 150 yards before being halted by the intensity of enemy fire…'
Bernie had managed about 100 yards when a rifle bullet hit him in the shoulder. As he and another wounded digger were trying to find their way back to safety the pair was captured by a party of Germans. Bernie spent the next 15 months being moved from pillar to post in various prison camps deep in Germany. At times he was deemed well enough to be sent out to work in one of the 'Arbeit Kommando' work-parties for the Germans despite by now having been diagnosed with Tuberculosis (April 1917). Even this didn't stop him. His 'mischief' gene had him always up to something. It was probably about this time that he and some other PoW's found a way of making crude metal flanges. Whenever they had day release from camp they would smuggle the flanges out and place them on the German train tracks to wreak whatever havoc they could.
Due to his TB Bernie's name was eventually put forward as part of a prisoner exchange programme. On 25 November 1917 he was moved to the Hotel Beau-Site in the town of Leysin in Switzerland where he would convalesce for the next 7 months.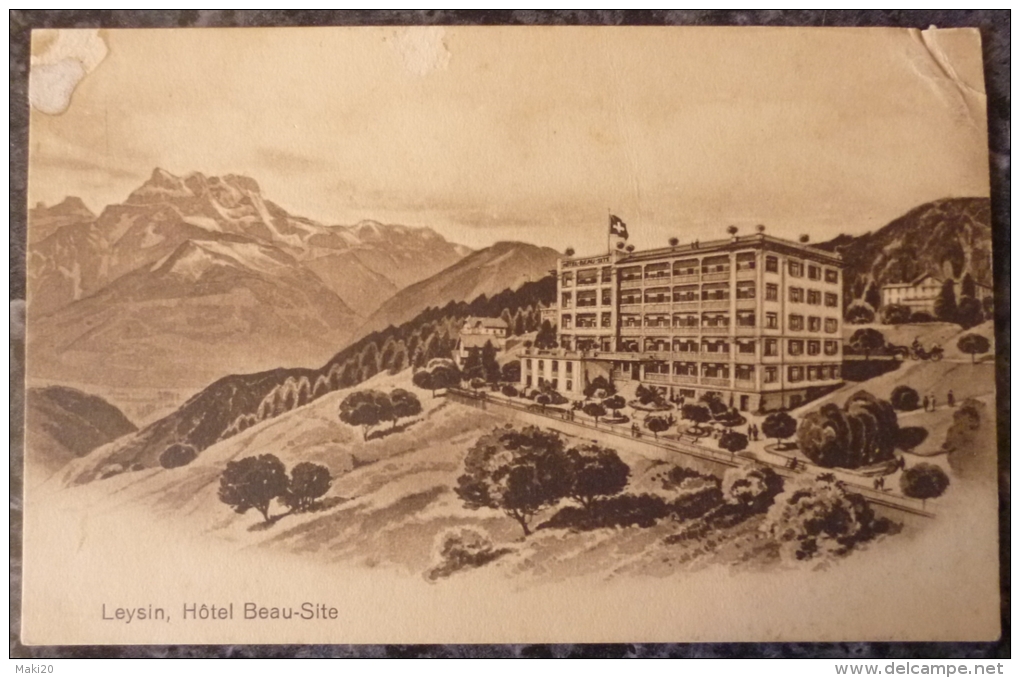 Photograph on left Bernie sent to his sister in WA from Leysin Switzerland c.1918 - Photo on right is of the Hotel Beau-Site Leysin c.1916
Bernie's commission for prisoner exchange came through and on 11 June 1918 he was finally put aboard an ambulance train and transferred from Switzerland to London's King George Hospital Waterloo where he arrived on 14 June.
He was debriefed on 4 July 1918 and all the details of his capture and imprisonment were documented. The wound to his shoulder was listed as severe. On the 17 July he was transferred to the 3rd Auxilliary Hospital in Dartford in Kent, 2 days shy of his 26th birthday. His last move was on 26 July 1918 to the No.2 (convalescent) Command Depot at Monte Video House in Chickerell near Weymouth in the south of England.
MARRIAGE
Life was now very precious and to be grasped with both hands.
In the briefest of courtships imaginable Bernie proposed to a 19 year old English girl named Laura 'Monty' Montgomery. Monty happened to be an acquaintance of his brother Henry. As they didn't have her parents' consent to marry, in typical Bernie style the pair eloped.
They were married by special licence on Sunday 25 August 1918 in the Wesleyan Methodist Church in Weymouth near Bernie's Army hutment. A short month later on 23 September 1918 Bernie was aboard H.T. Runic and on his way back to Australia.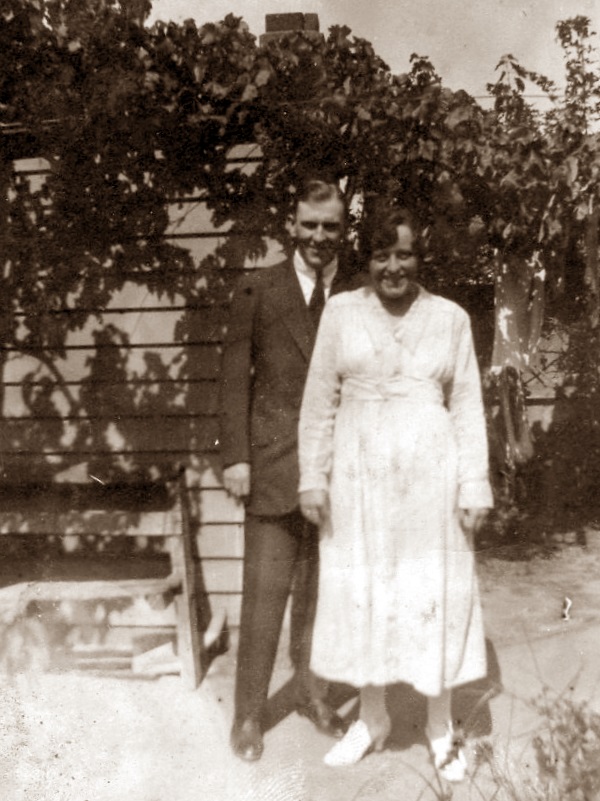 Monty emigrated with other war brides in December.
Return to civilian life in Victoria
After demobilization in February 1919 Bernie went back to work for the Union Bank in Melbourne but found himself very often back in Caulfield Military Hospital. To add to his woes, in July 1919 his much loved eldest sister suddenly died during childbirth in outback Ajana in West Australia.
On the up side, eldest brother Henry had recently been repatriated from England.
Back in September of 1915 Henry had enlisted in Geraldton even though he was already 36 years old. He was taken on as a gunner in the Field Artillery reinforcements and soon found himself in France. During several tours of duty (Howitzers) Henry suffered a raft of serious physical injuries, including being run over by an ammunition limber. He spent many, many months convalescing in England. Happily Henry was due to marry in Perth later in the year.
Back to Western Australia
In Melbourne in September 1921 Monty gave birth to her and Bernie's only daughter whom they named Shirley. The following year Bernie, Monty and little Shirley moved back to Perth. Bernie took up briefly again with the Bank but as was all too often a problem for the returned digger, alcohol began to insinuate its ugly influence. The family moved once again, first to Busselton and then to Geraldton, with Bernie drifting from job to job. At Geraldton in October 1923 Monty gave birth to their only other child whom they named Leslie.
From Bad to Worse
Bernie's next plan was to try wheat farming. He and the family moved to a remote place called Ogilvie up on the Murchison River where they remained until 1927. For Monty, London-born-and-bred, the contrast could not have been greater. She was now living in the Australian outback, in a hut of corrugated iron with a dirt floor and somehow managing an ailing and troubled husband and two young children.
The wheat farming venture was a complete fiasco and in 1928 the family moved back to Perth.
Gunner Henry Alston 1918 (below)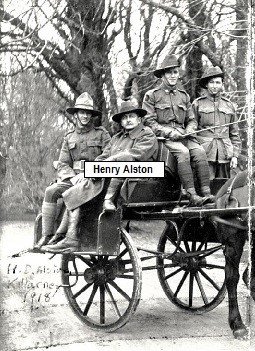 Meanwhile Bernie's brother Henry's health had taken a turn for the worse. Tragically the War would claim yet another soul as Henry's injuries proved to be all too much. On 14 September 1928 at Kalgoorlie, at only 49 years of age Gunner Henry Douglas Alston passed to a better life.
Bernie took Henry's death very badly. His excessive drinking then landed him in court, though this encounter before the judge perhaps gave him the impetus he needed to sort himself out. He settled down to studying and in due course qualified as an Accountant. The spectre of the War however would never leave him.
In 1931 Bernie brought Monty and the two children back to suburbia in Victoria. Their last move was to a little hobby farm in Red Hill South in about 1941. They settled into their rural haven and life finally took on an even tenor of sorts. The escalating events of WW2 would shatter any new-found peace.
World War Two
In 1943 Bernie and Monty's 20 year old son Leslie enlisted in the RAAF to later muster as a Navigator in Bomber Command in England. The idea that his son was now going off to yet another World War weighed heavily. Bernie initially would not give his consent. In the end Leslie did go and he went with Bernie's blessing. Fortunately Leslie returned safely and once more took his place at the family dinner table on the farm.
Aftermath
Bernie's poor old body was covered in scars Shirley said. In later years he became totally dependent on oxygen and addicted to morphine. His final days were a struggle but Monty would not hear of him being hospitalized. They would face his 'Armageddon' together at home. He finally succumbed, passing away on his and Monty's 38th wedding anniversary, 25 August 1956. He was 64. Bernie had always kept the faith. I hope in the end he was reconciled and found peace.
In Jim Aitken's words Bernie was every bit '... a merry scamp'.
To me he was a loveable larrikin. Undoubtedly he was also a rebel with a dislike for authority but what he lacked in discipline he certainly made up for in deed. When it counted he was as game as any.
LEST WE FORGET
Of those four other young men from the goldfields with whom Bernie began that fateful journey in 1914;
James Clifford HILLIARD

James was an early casualty. He had already been promoted to Lance Corporal in the early days before even leaving Blackboy Hill. During the Landing at Gallipoli on 25 April he was shot through the left knee. Part of the tibia was blown away and the nerve completely severed leaving the leg paralyzed. He was invalided back to Australia on 5 July 1915 for later surgery. James married in 1917 and took up once again as a bank officer. He followed the promotions within the bank up to that of branch manager. He died in 1973.
Daniel McCALLUM

Four days after that shocking day of carnage near Pozières 14th August 1916 where Bernie was captured and so many others were killed, his lieutenant Dan McCallum was promoted to Captain. Dear Mac held his captaincy for less than three weeks. He was wounded in action on 3 September 1916 valiantly leading his men out on possibly the unit's last raid on Mouquet Farm (phase 4) before the job was to pass to the Canadians. In a bitter irony he was killed as he was being transported back behind the lines. He lies at rest in Bouzincourt Ridge Cemetery near Albert in France.
John Patrick O'NEILL

Major John Patrick 'Jack' O'Neill MC was clearly officer material. He had been quickly promoted through the ranks starting as Colour Sergeant at Blackboy Hill. He was promoted to Company Sergeant Major in early 1915. He was wounded several times but always went back into action as soon as possible. He was awarded the Military Cross on 15 May 1917 for conspicuous gallantry and devotion to duty. Jack returned to Australia on 1 June 1919 with the rank of major (honourary). [For his comprehensive story see Winning & Losing: A Biography of Jack O'Neill MC by his niece Beverley Scott.]
James Murray AITKEN

Lieutenant James Murray 'Jim' Aitken MC promised his mum in his letters home that he would work hard and stay out of trouble. This he did. By the 15 June 1916 he had been promoted to lieutenant. Two years later on 3 June 1918 he earned the Military Cross for conspicuous bravery. In the cruellest of fates with only a trifling three months of the War left to run, on the 10 August 1918 Jim's charmed life came to an end. The 11th Battalion had just made a significant assault around Lihons in France (Battle of Amiens). It was a successful attack but it came at a huge cost. Brave Lieutenant Aitken was killed in action that day, a few days short of 4 years continuous service. He was originally laid to rest at Heath Cemetery in Harbonniers France very near the spot where he fell but it appears the grave was later lost. His name is now inscribed in the Australian War Memorial Roll of Honour at Villers-Brettoneux.
With pride we will remember them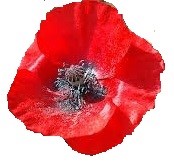 ---
Many thanks to Sharon Cooper for sharing this heartfelt story of her grandfather with us, it is much appreciated.
Sharon has expressed special thanks to Malcolm Quekett of The West Australian for pointing her to the Aitken letters, held by the Australiam War Memorial.