Primary Address by Brigadier Duncan Warren AM RFD (Retd)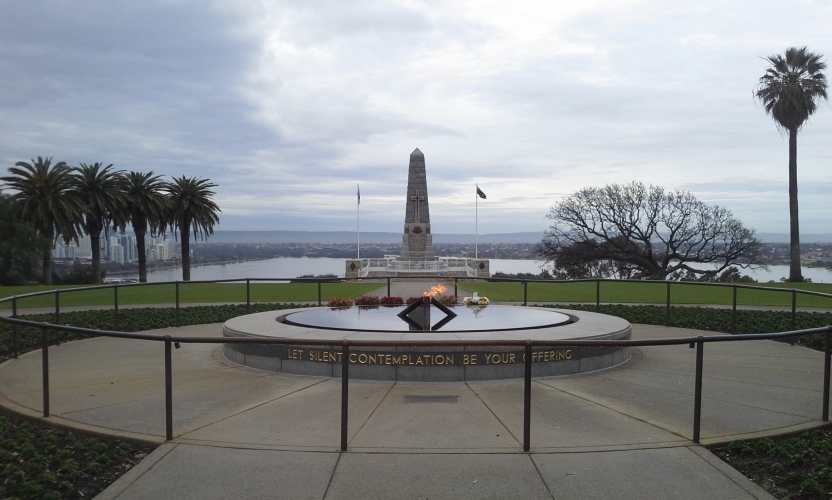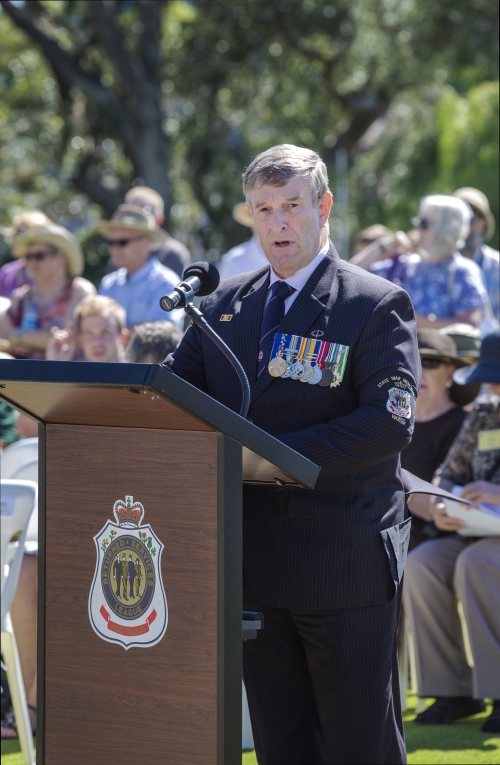 Brigadier Duncan Warren has a distinguished career in the Australian Army and is currently Head Warden for the Western Australian War Memorial.
Brig. Warren's address at the 11th Battalion Commemoration Service on 10 January 2015 was a fitting tribute to the men of the 11th Battalion.
This video includes an audio track of Brig. Warren's speech and a transcription of the speech is included below.
Video of Brigadier Warren's address
This 18 minute video has been compiled by Chris Loudon for the Western Australian Genealogical Society as part of the WAGS 11th Battalion Cheops Project.
Images shown in this video are primarily from publicly available sources, however some are from private collections and used with permission.
Transcription of Brigadier Warren's address
WAGS 11 BATTALION GREAT PYRAMID PHOTOGRAPH ADDRESS - Saturday, 10 January 2015
Brigadier Duncan Warren AM RFD (Retd) Mrs Liana Fitzpatrick, President of the WA Genealogical SocietyOther Distinguished Guests and Descendants of the 11th Battalion, AIFLadies and Gentlemen

During the sojourn of the11th Battalion in Egypt, an interesting photograph was taken of the whole unit, with all the officers and men grouped on the massive stones of the Great Pyramid of Cheops. Owing to the remarkable clarity of the desert atmosphere, a very distinct picture was obtained and most of the troops are easily recognisable.


Those two sentences constitute the sum total that I could find in Legs-Eleven, the history of the 11th Battalion, Australian Imperial Force, in reference to this now famous photograph, and essentially the reason we are here today.
It is, of course, the 100th anniversary of the day on which 704 men of the 11th Battalion were photographed on the Great Pyramid in Egypt prior to their involvement in the landing at Gallipoli.We owe a vote of thanks to the WA Genealogical Society for the tremendous amount of work that has gone into this project, and particularly the progress they have achieved in naming so many of those men in the photograph with the willing help of those soldiers' descendants.
The further in time we get from the original photo, the less chance there will be of completing the task. Regrettably I have seen hundreds of interesting photographs that lose their potential impact due to lack of names of the people within them. On behalf of the RSL I would like to thank Mr Chris Loudon, the Project Manager and Dr Graham Mahoney, the Event Manager and their respective teams for their hard work on this project.
The Australia of 1914 was very different from today. The population in 1914 was only 4.9 million, a little more than a fifth of our current population. Western Australia was more sparsely populated than most of the other states with only 326,000 non aboriginal inhabitants.
The model T Ford came onto the market in 1908 and continued through to 1927! The Wright Brothers gave us the first powered flight in 1903, and what was considered to be reliable flight wasn't achieved until three years later. The first students from the University of Western Australia graduated only weeks before Great Britain's declaration of war on the 4th of August 1914.
To illustrate a point for the youngsters here this morning, there was no equivalent of Facebook, Twitter, Instagram, Skype or Hangouts - the battalion sailed on the 2nd of November, but didn't receive their first mail until Christmas Day!
I would now like to provide an outline of the 11th Battalion from its inception to the time this well known photograph.
The outbreak of war caused great excitement. The first quota of troops to be raised from WA was 1,400 men, and recruiting offices were opened in Perth, Fremantle and various country towns including Albany, Bunbury, Wagin, Northam, Kalgoorlie and Geraldton. All centres were rushed by volunteers who, following medical examinations, were trained down to Perth. Enrolments opened on the 11th of August, and Blackboy Hill was officially opened on the 17th of August. This became 11 Battalion's home for the next 10 weeks as the men underwent their transition from civilians to soldiers.
The battalion was formed of eight rifle companies, representing roughly the four major divisions of the State. A and B Companies were drawn mainly from Perth, C and D from Fremantle and districts, E and F from the Goldfields and G and H Companies from the South West of the State. This had the effect of creating a constructive rivalry between the companies and greatly speeded up the process of welding these raw recruits into an efficient organisation, keen to learn and grasp all there was to be known.
The Battalion History makes a very relevant point in relation to discipline, and it states:It has been frequently said that discipline was sometimes a bit lax; but if it is remembered that many of these men had been their own masters from a very early age and had been accustomed to work out their own destinies, often against heavy odds, and that they rightly held themselves the equals of any man, then, the wonder of it all is, that they voluntarily submitted to a discipline and to a routine, certain aspects of which appeared absolutely ridiculous and unnecessary to most of them. Right through to the end of the war and afterwards, the Australian had always a kind of tolerant contempt for the red tape that the army insisted on; but having become a soldier, he played the game more out of the feeling of responsibility and mateship than from any fear of the penalties imposed for non-compliance with orders.
The training was constant and hard, and rumours of imminent embarkation persisted. Orders were received on the 7th of October to get all their kit ready, which they did in record time. Following roll call, they marched off in a state of some excitement only to be bitterly disappointed when they turned into the familiar Helena Vale Racecourse to find that their troopship was in fact the grandstand. Needless to say the practice did not go well!
The last few weeks of October saw a feeling of discontent and staleness pervade the camp. Letters from the camp were full of impatience and annoyance at the delay, as most were of the opinion that that the war would be over by the time they arrived! As their history states, Little they knew!
The battalion boarded their troopships in Fremantle on the 31st of October, but didn't actually sail until the 2nd of November. Having survived a couple of incidents along the voyage, including HMAS Sydney departing the convoy to deal with the Emden, the Battalion finally arrived at Alexandria on the 5th of December. Despite the fact that no leave was granted, it was reported that less that 200 of the 2000 on board remained on the ship. However, nearly all were back on board prior to roll call next morning. They entrained for Cairo arriving at 1.30am, then moved out to their camp at Mena at the foot of the Great Pyramid.
The Camp now consisted of over thirty thousand men, and once the camp had been organised, training steadily increased in tempo. Being winter, the weather was not unduly warm, but the loose sand made walking and marching very tiresome. At this stage the battalions were reorganised from eight to four companies, and their training took them out to the area known as Tiger's tooth, a high rocky escarpment about five miles out of camp.
As most here today will be only too aware, this project by the WA Genealogical Society has tried to identify as many as possible of the 704 men of the 11th Battalion spread over the Great Pyramid. In order to do so they have set up a dedicated website where they have two copies of the photograph - one clean, the other with a grid superimposed and each person numbered. People have been encouraged to research their relatives and attempt to identify them in the photo. They have also been asked to register with the Society and provide information about their relative in the photo.
To date 832 descendants have registered, constituting 264 groups.
While that is obviously well short of identifying every person in the photo, it is still a magnificent result!
What is even more important to my mind is the fact that so much more is now known about those who have been identified, and their stories are now available on that dedicated website.
I would just like to touch on a few of those stories:
907 Lance Corporal Cyril BOLLE

L/Cpl Cyril BOLLE - Cheops Pyramid 10 Jan 1915 - #587 on the gridded photo
He was killed in action on 25th April 2015, has no known grave, and is commemorated on the wall at Lone Pine Cemetery. There is some touching correspondence on the website, in particular regarding a member of the family visiting that cemetery just prior to ANZAC Day in 2013.
There is also a postscript titled "Finding one face in a sea of faces" which provides a very interesting illustration of the process of confirming identification through the use of technology.(Click here for tribute to L/Cpl Cyril Bolle)
Captain Charles Albert BARNES

Capt. Charles Albert BARNES Cheops Pyramid 10 Jan 1915 - #684 on the grid
Born in London, migrated to WA with his parents.
Worked as Chief Clerk at Western Australian Trustee Company prior to the war.Also followed a military career in the Militia.
Appointed to command C Company, 11 Battalion
Killed in Action in heavy fighting around Steele's post on 28th April 2015, aged 35.
Also had two brothers who served - Gordon was killed in Action with 11 Battalion in August 1918
John served with the 51st battalion and was invalided home in March 1918A very significant sacrifice from one family!
(Click here for tribute to Captain Barnes)
Woodward Brothers

Edward James WOODWARD

Pte Edward James WOODWARD Cheops Pyramid 10 Jan 1915 - #646 on grid

William WOODWARD

Pte William WOODWARD Cheops Pyramid 10 Jan 1915 - #643 on Grid
Both arrived from England in1912 and worked felling trees near Bunbury before moving to the Goldfields.
They were original members of the 11th Battalion, and both were among the first ashore at the Gallipoli landing.
Fortunately both survived Gallipoli and the Western Front with the Battalion and embarked for home less than 2 months before the end of the war.
3 Mofflin Brothers

2 born in new Zealand, one in South Australia. Family moved from NZ to Adelaide, then to Perth

507 Pte William Harold MOFFLIN

Pte William Harold MOFFLIN Cheops Pyramid 10 Jan 1915 - #409 on grid
Landed on Gallipoli on the 25th of AprilWounded on 29th April, then again on the 8th of July.
Back on duty on 13th July, he was re-admitted to hospital on 17th July with a fractured fore arm.
After this 3rd wound he was declared unfit for service and arrived back in Fremantle on the 18th August 1915

Edward Walter MOFFLIN

Pte Edward Walter MOFFLIN Cheops Pyramid 10 Jan 1915 - #410 on grid
Joined 11 Battalion in September 1914, aged 26.
Landed on Gallipoli on 25th April. Survived Gallipoli and before going to France and now a Sgt was transferred to the 51st Bn.
Ted Mofflin was badly wounded on the Western Front, and died of wounds on July 7 1916 at Estaires in Northern France, where he is also buried.

Percy Sutherland MOFFLIN

Pte Percy Sutherland MOFFLIN - 10th Light Horse
Served in South Africa with the 5th Western Australian Mounted Rifles 1902
Enlisted in October 1914 in 10th Light Horse Regiment at age 42, but declaring he was only 35 years old!
Promoted Corporal in December 1914, landed at Gallipoli in May 1915 and was killed at Quinn's Post.
He is buried in Ari Burnu Cemetery.
With us here today are William's daughter Pat and his grand daughter, and Pat's niece Joelle Tinomano who has travelled from Tahiti.


Edmund Alfred DRAKE-BROCKMAN

Maj Edmund Alfred DRAKE-BROCKMAN Cheops Pyramid 10 Jan 1915 - #697 on Grid
Born in Busselton, his mother being the former Grace Bussel, the heroine of the Georgette disaster in 1875 when she helped save 50 lives.
He served with the Militia from 1903 to 1913, rising to the rank of Major
In August 1914 he was appointed to the AIF as major in the 11th Battalion.
He was among the first ashore at Gallipoli, and was in the thick of the fighting. Seriously wounded on the 15th of July, Drake-Brockman was evacuated to Malta, and then invalided to Australia in October.He returned to Egypt in April 1916, and was promoted to LT. COL and given command of the 16th Battalion AIF.
Drake-Brockman was made a Companion of the Order of St Michael and St George for service at Gallipoli, was awarded the Distinguished Service Order for his service in command of the 16th Battalion and in June 1919 he was made a Companion of the Order of the Bath.
In all he had been Mentioned in Despatches six times.
He was promoted to Major General in 1937 and remained in command of the 3rd Division until he retired from the Army in January 1942.
Drake-Brockman also had a distinguished career outside the Army, being elected to the Senate as a Nationalist in 1919. In 1927 he was appointed as a judge to the Commonwealth Court of Conciliation and Arbitration, and was appointed Chief Justice of that Court in 1947.
All in all, a very distinguished career.


There are so many amazing stories about members of the 11th Battalion on the website, and they provide such a vivid insight into just what those men went through. It is a great resource for future research.
11Bn 64 KIA's 25 Apr 1915 - Country of Birth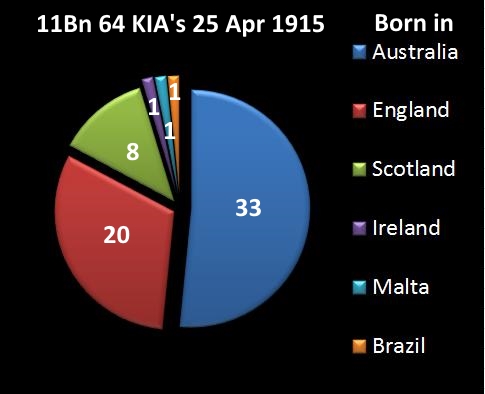 11Bn 33 KIA's 25 Apr 1915 - Aust. State of Birth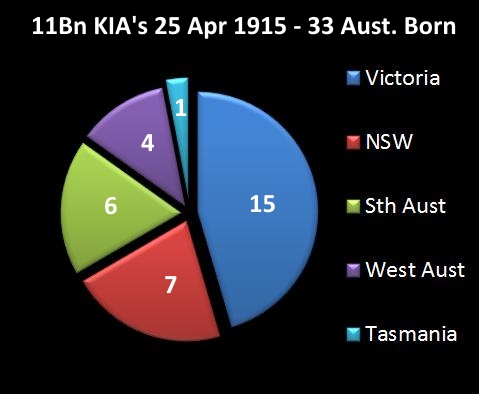 To me it is very sobering to reflect that 64 of those men in the Great Pyramid photograph died on the first day they saw action, the 25th of April 1915. It must have been such a huge shock to the remaining members of the Battalion and had a devastating effect on families back home.
The State or country of birth of those killed that day is very diverse considering it was a Western Australian battalion.33 were born in Australia, 20 in England, 8 in Scotland, and 1 each in Ireland, Malta and Brazil.
Of the Australian born, 15 were born in Victoria, 7 in NSW, 6 in South Australia, only 4 in WA and 1 in Tasmania.
The 11th Battalion went on to distinguish itself throughout the remainder of the war and is reflected in the 23 Battle Honours awarded to the Battalion. This project and today's event are a fitting tribute to the 11th Battalion.
It had fought in Gallipoli, France and Belgium, and had over 9,000 men pass through its ranks.
Their total casualties were 3,539 all ranks - of those, 1,115 gave their lives.
I believe it is fitting to conclude with the words of MAJ GEN E G Sinclair-MacLagan, the commander of the 3rd Infantry Brigade from 1914 to 1916, who stated:

Maj Gen Sinclar MacLAGAN

The 11th Battalion, Australian Imperial Force, found its personnel from Western Australia, and was physically one of the finest battalions in the AIF.

The battalion took its fair share of all the fighting and hardships which fell to the lot of the 3rd Infantry Brigade AIF in Gallipoli, France and Flanders, and never failed its commanders in any operation in which it took part.


Lest We Forget.
Prayer of Remembrance

Heavenly Father, we remember with pride and gratitude the men and women who have given their lives in defence of this our country. They fought and died that we might have security and peace, that we might walk in freedom and live in justice.

We remember with pride and gratitude and sympathy the men and women who live in suffering and pain in our hospitals as a result of their generosity in protecting our country.We remember with gratitude and sympathy the men and women whose spirits were crushed and minds deranged by the horrors and suffering through which they passed and saw others pass.

We remember with pride and gratitude the doctors, nurses, Red Cross workers and all volunteers who served our sick, wounded and exhausted servicemen and women.

We remember with pride and gratitude the chaplains of our forces who brought spiritual comfort and consolation in times of sickness, injury, fear and death.

Be merciful and gracious to them all, O Lord.

Amen