11Bn Home
Details

Hits: 9410
11th Battalion family gathers at the War Memorial
Kings Park Perth, Jan 10 2015

Today, 100 years to the day and the hour since the Cheops Photo was taken, saw some 800 descendants of the soldiers of the 11th Battalion gathered at the Flame of Remembrance and War Memorial at Kings Park in Perth for a Commemorative Service and photo opportunity.
These images will give a sense of what the day was like for the descendants who managed to gather for the service.
Together 100 Years Apart
10 Jan 1915 11Bn at Khufu Pyramid, Giza, Egypt - 10 Jan 2015 11Bn Families at State War Memorial, Kings Park, Perth, WA
Details

Hits: 6367
11th Battalion Kings Park Commemoration Service Event 10 Jan 2015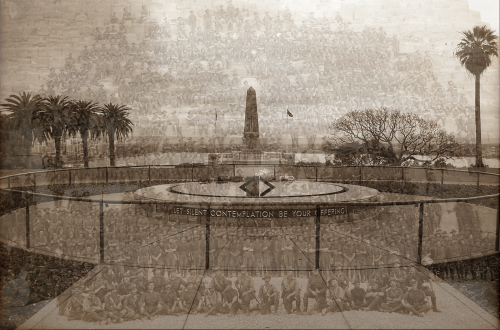 We hope you can join us for the 11th Battalion Centenary Commemorative Service at the Flame of Remembrance, Perth War Memorial, Kings Park, Perth, Western Australia on 10 January 2015.
The service is open to all and will commence at 09:00am and finish at approximately 10:30am.
This event is for any 11Bn soldier, not just those in the Cheops photo.