31 October 1914 - 11Bn. Fremantle Departure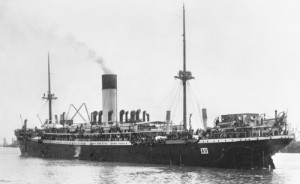 The men of the 11th Battalion boarded HMAT Ascanius (A11) and HMAT Medic (A7) on 31 October 1914. "A" and "B" Companies boarded the Medic with their 6 Officers, 236 men, and the remainder boarding the Ascanius, 788 men, including 26 officers.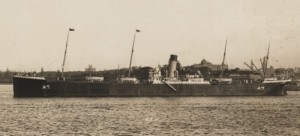 They then spent 2 days at anchor in Gage Roads waiting for their escort ships, and the main convey who were preparing to sail from Albany. HIJMS Ibuki steamed by on the evening of 31 October on her way south and returned 2 days later with other escorts, including HMAS Sydney and HMAS Melbourne.
Departing Fremantle anchorage on 2 November the Ascanius and Medic joined the main convoy at sea on 3 November 1914.
Company and Ship Allocation
On embarkation the 11th Battalion compliment was 1,025 men, being 32 Officers and 993 other ranks, these were distributed as per the following table:
11Bn. Allocation

Officers

Other Ranks

Total

Ship

Headquarters
5
59
64
Ascanius
Signallers
1
25
26
Ascanius
Machine Gunners
1
17
18
Ascanius
A.A.M.C.

(i)

1
5
6
Ascanius
A Company

(ii)

3
117
120
Medic
B Company
3
113
116

Medic
C Company
3
118
121
Ascanius
D Company
3
113
116
Ascanius
E Company
3
113
116
Ascanius
F Company
3
113
116
Ascanius
G Company

(iii)

3
115
118
Ascanius
H Company
3
84
87
Ascanius
B Company

(iv)

-
1
1
Ascanius


Total

32

993

Departure Fremantle, 1025

Arrival Alexandria, 1023
The Ascanius arrived at Port Said, Egypt on 2 December 1914, proceeding through the Suez Canal arriving at Alexandria on 5 December where they disembarked on 6 December. The troops entrained for Cairo, proceeded to Giza and marched into Mena Camp site on the evening of the 6th and proceeded to set up their camp on the 7th. The Medic arrived at Alexandria on the 13th and the troops proceeded to Mena to join the rest of their Battalion. Training commenced soon after their arrival.
Table Notes
(i) A.A.M.C. = Australian Army Medical Corps. There were two deaths at sea en-route to Egypt;
(ii) Private Frederick COURTNEY (21) from "A" Company died of pneumonia on 10 November 1914 on board the Medic, and
(iii) Private Charles William POWER (821) from "G" Company died the following day, 11 November on board the Ascanius, also of pneumonia.
(iv) 253 / 1093 Sgt. George Joseph BOYLE was discharged prior to embarkation on 29/30 October 1914. Boyle was re-enlisted on the high seas on board the Ascanius on 6 November 2014 enroute to Egypt. This was initially with the 10th Battalion but he was immediately transferred to the 11th Battalion. His re-enlistment brought the strength of B Company up to 117 (116 men of B Company were on the Medic). With the addition of BOYLE the total number of men on departure is 1025, and arrival in Egypt is 1023.
11Bn. Original enlistments - Links
Click on the following links for direct access to 11th Battalion Original Enlistments:
Full list of the: Nominal / Embarkation Roll
Cheops Photo: 11th Battalion Cheops photo and grid
List of identified soldiers: Cheops Photo ID# Index
Video - Ships departure, the voyage and Cheops photo: 11th Battalion sails into history
---
Sources
11th Battalion Unit Diary (AWM-RCDIG1003299) & Nominal Rolls (AWM-RCDIG1067557).
Note
The nominal rolls are showing the whole Battalion as departing on the Ascanius.
We have used the Unit Diary entry which records the split as per the 1st paragraph on this page.
---