Fact or Fiction?
Debunking the Myths about the 11th Battalion Cheops Photo.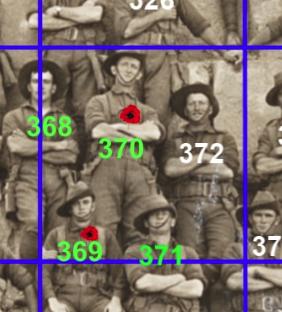 For too many years there has been all sorts of urban myths about the "Men on the Pyramid" photo.
Some of these myths have been perpetuated by people who should know better, such as retailers of the 11th Battalion Cheops photo who continue to put a docket in a pouch on the back of the framed photo citing the "dead man myth", and yet others who don't know any better but are willing to spread the rumours for the joy of it.
The photo below is a good example of what some retailers have been doing.
This image was taken by one of our extended 11th Battalion descendants families. It was in the window of a photo framers stall at a market in the Sunshine Coast in Queensland.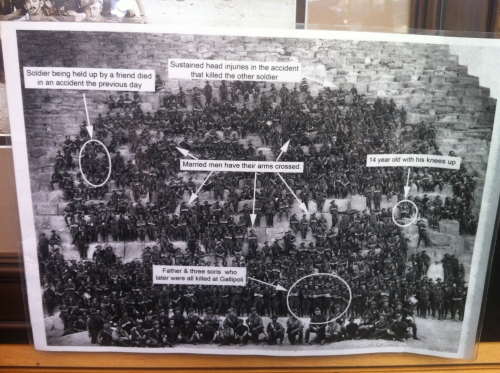 Perpetuating the 11th Bn Pyramid myths.
Cheops image in a shop in Queensland
Khufu / Cheops photo - Myth Busting
So, in an endeavour to put them to rest we have had a look at some - they are ready to be debunked, click on the links below for individual pages of myths.
Myth 1 - Debunked = Father & Sons all killed next day / at Gallipoli

Myth 2 - Debunked = Dead soldier being held up by mates

Myth 3 - Debunked = Men with bayonets crossed are all from the same company

Myth 4 - Debunked = All men with arms folded are married


Myth 5 - Debunked = Soldier sustained injuries in accident that killed the other soldier

Myth 6 - Debunked = Two soldiers with their hands above heads are under arrest & handcuffed

Myth 7 - Debunked = Catholic men are all missing from the photo, church service went over time

Myth 8 - Debunked = Soldier at middle right hand side is a 14 year old with his knees up


Myths 9 to 12



Myth 9 - Being assessed

Myth 10 - Being Assessed

Myth 11 - Being Assessed

Myth 12 - Being Assessed


Watch this space for more myths ...