Grid Clusters - Mystery or Myth
There is a myth around the pyramid photo that the soldiers all lined up behind their respective officers, and in their Company or Section groupings. There is some evidence that soldiers of the 11th Battalion formed groups or clusters, when they assembled on the pyramid for the Cheops photo.
Cluster types
These clusters are by no means strictly adhered to, and they are not universal, but can sometimes be useful as a bit of a guide when trying to determine where any given soldier may be on the pyramid, and consequently the row or column in which they may appear.
Company or Section groups
Is the myth of the soldiers forming behind their respective officers true of false? "A" and "B" Companies were formed primarily by recruits from the Perth district; "C" & "D" Companies also generally from the Perth suburbs, but with greater numbers from suburbs surrounding Leederville, Subiaco and Fremantle; "E" and "F" Companies from the Goldfields and South West of Western Australia, such as Kalgoorlie - Boulder, Collie & Bunbury; and "G" & "H" Companies comprised mainly of men from the South West, Great Southern and Murchison areas. It appears that there are some soldier in Company or section groups, who assembled in a general gathering behind their Company officers. However this is not a hard and fast rule as there are other soldiers of the same company in different areas of the pyramid, and not behind their Company officers.
Origin location groups
Whilst not strictly adhered to, the original Company formations of the 11th Battalion followed general grouping of soldiers recruited from particular areas of the state. There is some evidence that men who were recruited from particular areas gathered together for the Cheops photo. Some of these groups may be coincidental to their Company formations, but others men from a particular geographic area are across companies and would appear to be because of their friendships, possibly prior to their enlistment. For example a small group of Collie recruits are together in at least two locations on the pyramid.
Cluster photo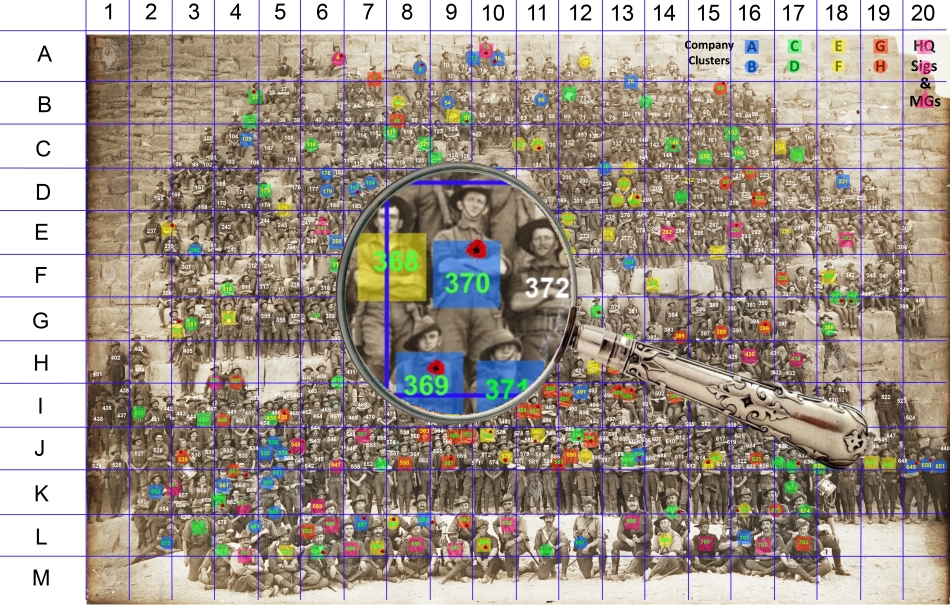 To further assist in locating a soldier, we have provided a colour coded image which is highlighting the men according to their Company formation. The photograph has been divided into grid sections, and each of the soldiers in the image has been numbered, click the image on the left which will open a new page. This image is best viewed with Mozilla Firefox.
Notes - The new page is interactive, hover over a soldier ID numbers to see details, click to go to a thumbnail of the soldier or to a tribute elsewhere on this website.
Hold the CTRL key down on your key board and use your mouse wheel to zoom in and out (remember to zoom out again to reset your view when finished with the image). Use the navigation slider bars in your browser to move around the image.
This link that this is a high definition image and quite large, so be patient.
Within the 11th Battalion Cheops grid image, unidentified soldiers are numbered in WHITE text; identified soldiers who are yet to be 100% verified are in YELLOW text; and identified and verified soldiers are in GREEN text. Soldiers known to have been killed in action (KIA), died of wounds (DOW), or died of sickness (DOS) as a result of their service in the 11th Battalion are marked with a poppy

To view a copy of the above image without the gridlines, go here (opens a new page).
Cluster colour coding
Each identified man in the above image has a coloured patch on him, with the original companies showing as a square or circle to differentiate between them, but to show their new allegiance by using the same colours for each of the original companies in the new company.
Shown below is a key to Company colour codes for identifying soldier clusters in the 11th Battalion Cheops Pyramid photo.

Shortly after arrival in Egypt, the 11th Battalion original Companies were reformed to comply with the British army standard of four company units, rather than the eight companies of the Australian Army at the time. The table shown on the left shows the colour codes used to identify soldiers by the new company formations. The original "A" & "B" companies were reformed into "A" Company are Blue; "C" & D" into B are Green; "E" & "F" into "C" are Yellow; and "G" & "H" into "D" are Orange. Headquarters staff (Square), Signals (Circle) and Machine Gun (Triangle) sections are in Purple.
11Bn Cheops Image - Cluster Maps / Infographics
These cluster maps or infographics, show the identified soldiers locations via a colour patch according to their Enlistment Company, as shown in the Key to company diagram above.
11Bn Company Clusters
The links below will open a series of 11Bn Cheops cluster only image maps. You can scroll through all the images after opening any one of them, however they are not zoomable.
A & B Company = A Company post Egypt
C & D Company = B Company post Egypt
E & F Company = C Company post Egypt
G & H Company = D Company post Egypt
Headquarters, Signallers and Machine Gunners on Enlistment = & post Egypt
Location of those who died as a result of their service = Poppy image map
All Companies cluster image map overlay (with Grid)
Cheops Image showing all men in location with cluster colour codes
We will be looking at other types of cluster infographic for the soldiers in due course.
11Bn Cheops Image - Zoomable
The links below are individual links to separate zoomable images.
11Bn Cheops soldiers ID# image
Indexes
Identified soldiers names are shown in index tables on other pages: Photo ID Indexes We hope to eventually provide each of the identified soldiers with their stories on a page of their own. This may take a while to collate, and people are invited to submit their own soldiers stories; links are here: Soldier Stories
_________________________
Grid images
Use mouse scroll wheel to zoom.
---