100 years ago today - November 9, 1914

The German raider Emden was creating havoc in the oceans, and a watch was out for her whereabouts.
News came in whilst the AIF convoy was en-route that the Emden was close by, HMAS Sydney steamed away from the convoy to tackle the menace. HMAS Sydney did battle with SMS Emden near Cocos Keeling Islands in the Indian Ocean, the sea battle ended in favour of the Sydney.
Check out the details of the ships, the Captains and the battle on this page below, thanks to the RAN...
HMAS Sydney (1)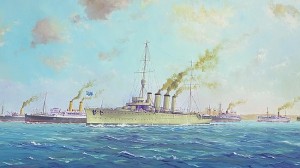 HMAS Sydney leaving Sydney in escort of convoy 1914 - NSW Artist Stan Stefaniak ASMA
SMS Emden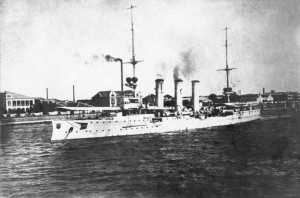 SMS Emden I at Hafe, Tingtau, China 1914
---
Sydney v's Emden
The RAN has a produced a great page covering the two ships, their battle, and a tribute to the two gentlemen Captains, Captain Glossop of the Sydney & Captain Von Muller of the Emden, shown below...