Daniel COCKING - KIA - ID# unknown

980 Corporal Daniel COCKING was a prospector from Ballarat, Victoria.
Daniel was apparently working in the northern goldfields of Western Australia around Cue when he enrolled in the 11th Battalion at Geraldton on 4 September 1914.
We suspect that Daniel is in the Cheops photo, but he is yet to be identified.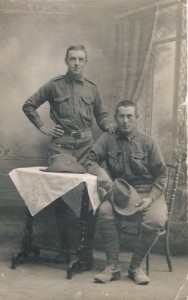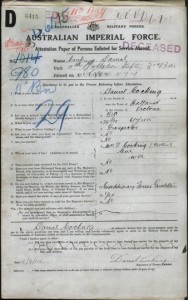 Daniel COCKING Sern 980 - Daniel underwent his training at Blackboy Hill Camp, embarked on the HMAT Ascanius (A11), served at Gallipoli, and was killed in action in France 30 May 1916.
He is buried in Rue-Petillion Cemetery, Fleurbaix, France.
Daniel is in a studio photo with his good mate Ernie Flynn, as shown here and on the page for Ernest FLYNN. (Image courtesy Jessica Barratt)
If you know anything about Daniel COCKING please contact us by This email address is being protected from spambots. You need JavaScript enabled to view it..
James Guy COCKING
(not in the Cheops photo)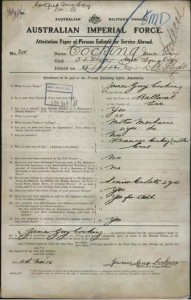 215 Private James Guy COCKING was Daniel's younger brother.
Motor mechanic James Guy COCKING enlisted on 4 November 1916 and joined the Australian Flying Corps as an Air Mechanic.
James returned to Australia in June 1919.
We have not researched James as yet.