Ernest Holt FLYNN - RTA - ID#
484

780 Private Ernie Flynn had just turned 21 when he enlisted for service at Geraldton, Western Australia on 5 September 1914. He joined the 11th Battalion, G Company after undergoing his training at Blackboy Hill, and was part the original group that embarked on HMAT Ascanius (A11) from Fremantle on 31 October 1914.
Ernie returned to Australia after his war service.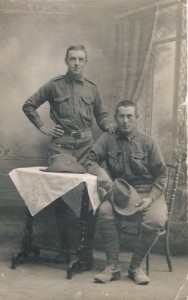 Ernie's great granddaughter, Jessica Barratt (a WAGS member), has a detailed account of the life of Ernest Holt FLYNN on her blog here.
Ernest Holt FLYNN (left) & mate Daniel COCKING (SERN 980) are in the portrait photograph on the right- see separate page for Daniel Cocking.
Jessica has kindly given permission for us to use her images on this page.