Walter Lamont Fathers - RTA - ID#
489
.....regular Australians - extraordinary service


Paul, the grandson of Walter Fathers recalls Grandpa was a very gentle, quiet and reserved man who pottered around the house, tended his garden and tinkered in his shed.

He hand carved with love, model yachts for his grandsons and beautiful doll's houses for his granddaughters.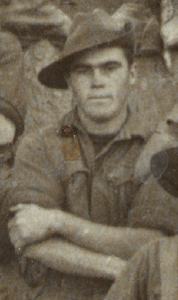 It's impossible to look at the young Walter Lamont Fathers as he held a pose on the Cheops pyramid that second Sunday in January 1915 and not get a sense of the character and personality of the man.
Reserved, purposeful, dependable, decent, the type of man all would want alongside them when engagement with the enemy was imminent... and it appears, he was all of those things.
Family background
Walter was one of ten children born to George Fathers and his second wife, Ada Haigh and the eldest of six sons. As the state of Victoria moved further into economic decline, the growing family moved to Western Australia and settled for a time in Fremantle before George Fathers, a carpenter-joiner took up a position in Geraldton with Millars Trading Co, a company he later went on to own.
Walter Fathers 1917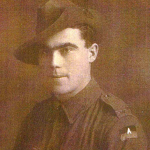 When war was declared in August 1914 and the call went out for men to fight for the mother country, twenty year old Walter, then working as a printer with the Geraldton Express was amongst the first to enlist and was drafted into 11th Battalion's G Company.
Of the original 117 men in this group, 105 were killed, wounded or medically discharged by the war's end.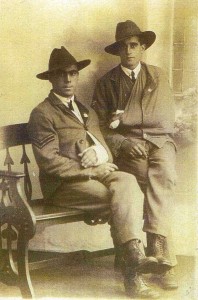 After three months of training in Egypt which included an appearance in the Cheops photo, Walter, now in D company, embarked on the HMT Suffolk for Lemnos. There, the 11th Battalion, chosen to be part of the initial assault on the Dardanelles underwent further training.
On that first day of horror, 25th April 1915, more than sixty men of the Battalion were killed in action or died as a result of wounds.
Walter miraculously survived and over the next seven months, left the peninsular on only one occasion to be treated for enteritis and associated illnesses.
Hell on the Western Front
Still further horrors were to assail him when, following the evacuation of Gallipoli, he was sent on to the Western Front where his battalion saw action at Passchendaele, Polygon Wood, Ypres, Bullecourt, and Pozieres.
Walter was promoted to Lance Corporal in 1917 and attached to HQ Signals 11th Battalion before being further promoted to the rank of Corporal in 1918. In March of that year he suffered a severe gunshot wound to his left shoulder and was hospitalised in England.
It was from that hospital in Bristol that Walter returned to Australia and was finally discharged in June of 1919.
Back home
With the war behind him, Walter chose to move to Adelaide believing the hot dry climate might better suit his lung condition, brought about by a number of severe gassings in France. In Adelaide, he found work as a clerk but later became a bookkeeper for a firm of butchers, a position he held until his retirement.
In 1925, at the age of thirty one, he married Janet McRae and together they had three children, two sons and a daughter.
A family tradition of service
As was true of many families at that time, Walter was not the only son to step up to enlist and fight for his country.
Eugene (Gerry), Walter's eighteen year old brother enlisted in the 16th Battalion at Blackboy Hill as Walter was on the high seas heading for Egypt. Gerry fought at Gallipoli was wounded and after a period of convalescence, transferred to the Australian Flying Corps and was discharged as medically unfit after the Armistice was signed. When Australia again went to war in 1939, Gerry put his age down and enlisted in the AIF. As a Sergeant in the 8th Divisional Signals, he was captured on the Malay Peninsula and imprisoned in Changi before being shipped to a labour camp in Korea and later Manchuria. Despite terrible conditions as a POW, he survived and died in 1995, only a year short of his one hundredth birthday.
In 1916, as soon as he had celebrated his eighteenth birthday, Ernest, another of Walter's brothers enlisted. As a member of the 16th Battalion, he was captured in France and imprisoned in Germany until the end of the war.
Albert, the youngest eligible brother enlisted in September 1918 but was discharged almost immediately when the Armistice was signed. He enlisted however and served during WWII alongside yet another brother, Malcolm.
In addition, Walter's son Allan, also a signalman as was his father, served in the Royal Australian Navy in the Pacific from 1944 to 1946.
Whilst George and Ada Fathers had their four sons returned to them, their nephew, twenty one year old Ormond Fathers was killed in action at Gallipoli in June 1915. He has no known grave and is memorialised at Lone Pine.
In 1980, Walter Lamont Fathers died in Adelaide, South Australia at the age of eighty six. His grandson Paul tells us

I was in my late 20s when my Grandfather died. I had been a Cadet Under Officer in School Cadets but despite my interest in the military, Grandpa never spoke of his war service. He had a framed photo of the 11th Battalion on the Cheops Pyramid hanging in the lounge room of their family home but I did not know of the significance of the photo. I was told by my father that Walter had his arms crossed left over right (rather than the more usual right over left) so he could be identified. The photo was the only display of his military service.


We salute the dedication and commitment of Walter Lamont Fathers, along with that of his son, his four brothers and his cousin.
We will remember them
Fathers, Walter Lamont 11Bn Fathers, Albert Harold 16Bn Fathers, Ernest George 16Bn Fathers, Eugene Alfred
---
Acknowledgements
Images of the four Fathers boys - Walter courtesy Paul Fathers; Albert, Ernest and Eugene courtesy Dawn Whitehurst
With thanks to Paul Fathers, grandson of Walter Lamont Fathers for sharing his knowledge of Walter's life and service with us and for providing details of the commitment and dedication demonstrated by other members of the Fathers Family to their country.
---
Written by Julie Martin.
Additional research by Bev Russell.
Sources
National Archives of Australia (www.naa.gov.au)
National Library of Australia. Trove (http://trove.nla.gov.au)
Australian War Memorial (www.awm.gov.au)
Western Australian Biographical Index by Rica Erickson
---