John Harold COFFEN - RTA - ID#
254


(ID under review)
In war, there are no unwounded soldiers
John Harold Coffen was born in Perth, Western Australia in 1894, the second youngest of the seven children of Agnes and William Coffen. His mother Agnes was the granddaughter of the Western Australian pioneers William Hole Duffield and Charlotte Foss Duffield.
Their home on the Swan River was named Bicton and the Perth riverside suburb now bears its name.
Early years
Prior to her marriage to William Coffen in 1884, Agnes had been briefly married. She was widowed when a trench being dug by her husband collapsed on him; there were no children to that marriage.
Her late husband left her a considerable estate and she also benefited from a family inheritance however, within six years of marrying William Coffen, all her property, horses and cash had been lost due to bad business decisions and in 1891 William was declared bankrupt.
Agnes provided for her family by sewing. Nothing is known about John's education but it appears to have been minimal. He described himself as a sleeper turner on his army enlistment form.
For King and Country
HMAT 11 Ascanius about to depart for Egypt, October 1914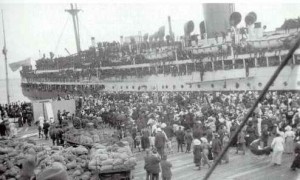 John was just twenty when he enlisted at Blackboy Hill on the outskirts of Perth, Western Australia on the 17 August 1914 and commenced his army life as private in the 11th Battalion with service number 960.
After spending several months training at Blackboy Hill, he sailed from Fremantle on the Ascanius for Egypt where his training continued at Mena Camp in the shadow of the pyramids.
On 25 April 1915 John was amongst those who made the initial landing at Gallipoli, survived and after some months was promoted to Lance Corporal.
In April 1917 on the Western Front, he was promoted to Corporal and was fortunate to have escaped without serious injury. Nevertheless, his service record notes that he was hospitalized on numerous occasions with defective teeth, influenza, mumps, pyrexia, debility, vertigo and trench fever. Eventually it was chronic trench fever which necessitated that he return to Australia, he boarded the the hospital ship Kanowna on 24th August 1918 bound for Fremantle and was discharged from the Army on 18th Sept 1918.
Like many of his comrades in arms, he found it difficult to cope following his return from Europe and both he and his family suffered as a result.
A casualty of war
John and Jane Coffen
on their wedding day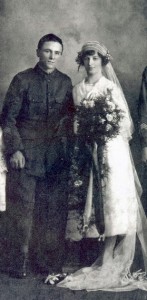 On his return John wasted no time in finding companionship and in June 1919 married Jane Buchanan Sherrard (born in 1898 in Letterkenny Ireland) at St Paul's Church in West Perth.
On his marriage certificate, he stated his occupation as French polisher. Their first child, Leslie William (my father) was born on January 11th 1920 followed by John Robert on January 12th 1921 and Ronald Charles in 1923. Three boys in three years would have been a difficult adjustment for any new parents but John was also having difficulty adjusting to post war life in general.
His drinking increased and when drunk he became violent. In August 1923 he was charged with assault while under the influence of alcohol after assaulting a fish merchant outside the Perth markets because the merchant wouldn't give him any fish.
Soon after this incident, John and Jane and their three young sons left Western Australia for Victoria and settled in the inner Melbourne suburb of Prahran.
John got a job as a French polisher at Manton's Furniture Emporium and though he was earning a steady wage, the family struggled because he was spending most of his earnings on alcohol.
John Coffen (below on right)
with fellow worker at Manton's
Furniture Emporium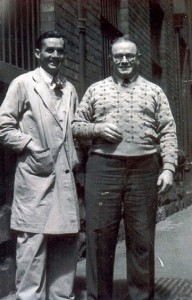 In 1926 their daughter Shirley was born.
As John's drinking increased so did his violence, directed mainly at his sons. Jane often put the children out the window and walked them around the block at night until she thought John had passed out and they could come back home to their beds.
In 1939 their youngest son, Ronald died suddenly at the age of sixteen of an undiscovered heart condition. Jane was inconsolable and John could not help her nor himself.
With Australia at war again, their eldest son Leslie enlisted, escaping from one tragic situation to another. John packed his things and moved out. For a while he stayed with friends and then moved to San Remo, on Philip Island, Victoria where he spent the rest of his days living in a caravan at the back of the San Remo Hotel. It seems he moved there to be with old army mates.
John died at the Heidelberg Repatriation Hospital on 16th March 1966 aged 72.
John's secret
... I would like very much if you could you let me have his address at your earliest convenience.
Amongst the documents in John Coffen's service record are two letters from a woman named Dolly Inch who resided at 174 High St, Elgin Scotland.
Both letters were sent to Army Headquarters requesting John's address and it appears this lady had spent some time searching for him. In her first letter dated 4th Sept 1918, she sounds desperate as she wrote the letter. Dolly knew his service number, his battalion and that he'd been convalescing at the 3rd Australian Hospital at Dartford, Kent from the beginning of April 1918.
I can't help but feel sad for this Scottish lady. I don't believe he ever contacted her, particularly if he thought she was pregnant. By the time her second letter arrived in 1919, John had married in Perth and his wife Jane was already expecting their first child (my father).
---
Story by Jill Braithwaite, granddaughter of John Coffen
---
Editor's note
Jill Braithwaite has generously outlined the details of John Coffen's life despite it being a tragedy for both him and his family. Jill only met her paternal grandfather on a handful of occasions and remembers him as a quiet, frail old man who walked with two sticks. She still finds it difficult to reconcile her memories of him with the man who was so damaged by his wartime experiences that he became a violent drunkard.
Stories about the emotional casualties of war are often swept under the carpet and we appreciate the opportunity to tell John's story, one which is repeated all too often in the aftermath of any war.
Jill also hopes that if Dolly Inch was indeed pregnant and her present day family are searching for answers they might stumble on John Coffen's story here and find resolution of a kind.
Julie Martin
---