Charles Albert BARNES - KIA - ID#
684

This is possibly the last photo taken of Captain Charles Albert Barnes - he was killed at Gallipoli on 28 April 1915.
On Sunday, January 10, 1915, Captain Barnes wrote in a letter to his mother:
'After Church this morning the whole Battalion was marched up to the Pyramid
(Old Cheops) and we had a photo took or at least several of them.'
A Dedicated Soldier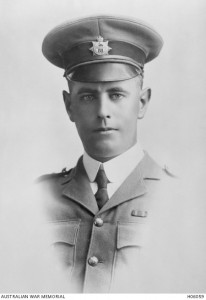 Charles Barnes was gazetted as 2nd Lieutenant of the Guildford Infantry on 9 May 1900. He served with the 4th Contingent, Western Australian Mounted Infantry as Lieutenant in the Boer War in South Africa, where he saw action at Eland's River, Bethlehem, and Wittebergen. He was awarded the Queen's Medal with three clasps. After his return to Perth in May 1901, he served with the 11th Infantry Regiment as a Captain in 1904.
When war broke out in August 1914 he was serving with the 88th Infantry; uniform shown in the image on the right.
Captain Barnes joined the newly formed 11th Battalion A.I.F. and was appointed to command C Company. He sailed with his Battalion on the HMAT Ascanius (A11) from Fremantle on 31 October 1914.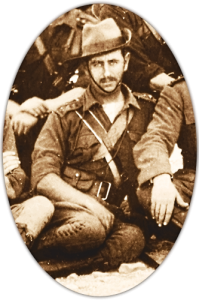 Captain Barnes is pictured (image on the left) in the front row of the Pyramid photo, along with his fellow offices, and identified in our Cheops image as soldier number 684.
Captain Barnes was in command of his men in the heavy fighting around Steel's Post on the afternoon of 28th of April 1915 where he was killed in action, aged 35.

He was mentioned in orders, and had honours and awards recommendations (along with fellow offices) for his action in the Galliopli campaign, but he did not receive a medal. He has no known grave and is memorialised at Lone Pine and on the Australian War Memorial Roll of Honour in Panel 61.
Family
Charles Albert Barnes was born in London in 1880 and migrated to Western Australia with his parents, William and Elizabeth (Williams) and settled at Guildford. He attended Perth Grammar school, and prior to the outbreak of WWI worked as Chief Clerk for the Western Australian Trustee Company. He was apparently close to his family and wrote letters to his mother which have been preserved in digital format by the Australian War Memorial and available online. The location of the originals is unknown.
Further sacrifice

He had two brothers who also served in the A.I.F.
(Left) 5027 Cpl. Gordon Howard BARNES who also served with the 11th Battalion as a member of the 16th reinforcements. Cpl. Barnes was wounded in 1916, and killed in action on 10 August 1918 near Lihons; he is buried in France.
Lieutenant John Viveash BARNES served with the 51st Battalion, joining up aged 25 years in September 1916. He was invalided home in March 1918 (no image).
Their mother, Elizabeth Barnes, died in 1938 and is buried at Guildford Cemetery.
Remembered in the mother country
J. H. Barnes was a well known English actor, and uncle to the young Barnes boys, proud of his nephews he wrote a verse which he performed at the Globe Theatre in London on 9 September 1915.
This poem is dedicated to Captain C. A. Barnes and quoted in full on a separate page, go here: "My Brother's Son"
---
Article compiled by Chris Loudon.
Sources - Websites:
Australian War Memorial (AWM) - Biography Captain Charles Albert Barnes
Australian War Memorial - Honours and Awards (Recommendation)
Australian Military History of the early 20th Century - 4th West Australian Mounted Infantry
Books:
Fremantle to France - 11th Battalion A.I.F. 1914-1919: Ian Gill, pub. Ian Gill 2003
For Kings and Cobbers - 51st Battalion A.I.F. 1916-1919; Neville Browning, pub. Neville Browning 2007