Edward Rogerson - RTA - ID#
655


"Tick Tock Granddad"


'Tick Tock Granddad' as he was know to the grandchildren, was born in 1889 in England and was the youngest child of his family who lived in Chingford, Essex.
His father was a private waterman on the canals and the small family home still exists and is in good order.
Early life
Edward married Constance May Andrews (of Bishops Stortford) in Marylebone Church in London in July 1911.
He migrated to Western Australia before the First World War in advance of Constance who anticipated following him within a year or so.
As fate determined, she was unable to migrate to Australia until after Edward returned from England on the Nestor in 1917, by which time their first child Audrey had been born. His first job after migrating to Western Australia was as a farm worker on Mr E D Haggerty's property "Woodville" near Kojonup.
When Britain declared war on Germany, he was one of the first volunteers from this area to enlist in the AIF.
1914 and off to war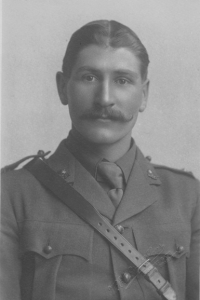 Edward commenced in the AIF as a private, training as a scout for the 11th Battalion at Blackboy Hill before embarking on the Ascanius at Fremantle for the voyage to Egypt.
As a scout, he was among the first men to land at Gallipoli, and Ray his son, thinks he may have been among the last to leave.
He returned to Egypt and then went to France through Marseilles and on to the Western Front, spending time around Pozieres where he was buried and dug out twice during horrific bombardments.
He also received a bullet wound to the outside of his right shoulder at some point. Edward was evacuated to the United Kingdom and after some time recuperating, was declared medically unfit to return to France and eventually sent home to Western Australia. [caption id="attachment_4113" align="alignleft" width="300"]
Edward Rogerson at Mena Camp in Egypt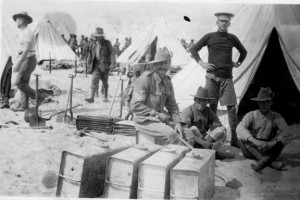 While in France, Edward was promoted to Company Sergeant Major (23 May 1915) and when invalided out of the service, had been promoted to full Lieutenant (28 June 1916).
The rapid promotion from Private on enlistment in the AIF to Lieutenant is an indication of the terrible death rates during his relatively short service period, (about twenty four months or less if down time is considered) as well as his character.
He was evacuated through Boulogne to London on 29 July 1916.
Edward was recommended for the Military Cross on 30 July 1916 for conspicuous gallantry during the assault, capture and defence of Pozieres.
The recommendation was later downgraded to a Mention in Dispatches.
He was only 5 feet 7 ½ inches tall – one of the shortest man in the battalion.
Rebuilding a life
His wife joined him in Western Australia after his return from the Western Front and they established a twenty acre vineyard by hand from the virgin bush at Millenden in the Swan Valley.
Ray says they would hitch up a horse to the cart and travel perhaps ten kilometres or more into Midland and then back each weekend to attend church. Edward later separated from his wife Connie although they did keep in touch.
Edward commenced work in the PMG (Post Master General's Department, precursor to Australia Post) before putting himself through a higher secondary level schooling course to enable entry to the clerical division which he did successfully, becoming a mobile complaints investigator. Ray thought he was happiest working out of the office and said that he was never harsh or difficult with his own growing children.
'Tick Tock' was given this name as he often brought out a pocket watch on a chain to show the grandchildren when visiting. The watch had a compass set into its back, and he would always use a steel knife to move the compass pointer, "as if by magic", through the glass to the thrill of the children watching.
He was to them, a respected and gentle, quiet man.
Edward passed away on 24 June 1963 aged seventy four and is remembered as a fine, self-made man and sometime soldier by his family.
---
This tribute to Edward Rogerson was submitted to WAGS by his grandchildren, Geoff, Cindy and Irene.
---