Details

Hits: 3915
Harvey George Rae - RTA - ID#
178

A story for Mia....
As the centenary of the Great War unfolds, many with family members who served overseas are remembering them and their sacrifices in minds and hearts.
Sifting through her personal memories of her much loved grandfather, Harvey George Rae, Pippa Murphy decided to write a memoir of him for her own granddaughter, Mia Murphy.
Her feelings for and recollections of Harvey bring him to life for a new generation of his family and explore the essence of the man. Here is Pippa's story for Mia.
Details

Hits: 3451
Ernest John Ingram - RTA - ID#
221

God gives his hardest battles to his strongest soldiers....
Ernie Ingram was having one of his best football seasons. Frequently mentioned amongst the most valuable players on ground, he was looking forward to playing in the finals and his team, the Narrogin Railways Club was on target to repeat its 1913 premiership win.
It took only a half column headed WAR on page 5 of the local newspaper of 7th August 1914 to make a dramatic change to Ernie's plans, not only for the footy finals but for the remainder of his life.
Details

Hits: 3888
William Deas Lumsden - KIA - ID#
382


There was a soldier, a Scottish soldier
Who wandered far away and soldiered far away
There was none bolder, with good broad shoulders,
He fought in many a fray and fought and won


Leaving behind a large family of siblings, young William and older brother Tommy Lumsden decided to try their luck in Albany, Western Australia.
Details

Hits: 3464
Walter Lamont Fathers - RTA - ID#
489
.....regular Australians - extraordinary service


Paul, the grandson of Walter Fathers recalls Grandpa was a very gentle, quiet and reserved man who pottered around the house, tended his garden and tinkered in his shed.

He hand carved with love, model yachts for his grandsons and beautiful doll's houses for his granddaughters.


Details

Hits: 3561
John Harold COFFEN - RTA - ID#
254


(ID under review)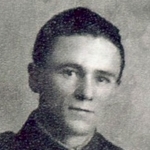 In war, there are no unwounded soldiers
John Harold Coffen was born in Perth, Western Australia in 1894, the second youngest of the seven children of Agnes and William Coffen. His mother Agnes was the granddaughter of the Western Australian pioneers William Hole Duffield and Charlotte Foss Duffield.
Their home on the Swan River was named Bicton and the Perth riverside suburb now bears its name.
Details

Hits: 2876
Edward Rogerson - RTA - ID#
655


"Tick Tock Granddad"


'Tick Tock Granddad' as he was know to the grandchildren, was born in 1889 in England and was the youngest child of his family who lived in Chingford, Essex.
His father was a private waterman on the canals and the small family home still exists and is in good order.