Details

Hits: 3823
INMAN, John William (Jack) - Not in Photo
INMAN, Edwin Stanley - RTA ID#
154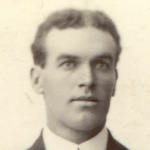 I do hope we will be spared to return to you dear people again
Australia is at war!
It was in August 1914 and with a heavy heart that Caroline Barlow learnt that Australia was at war.
Married at eighteen, she had given birth to thirteen children, eight by her abusive first husband, George Inman and five by her much younger second husband, Lambert Barlow.
Details

Hits: 5388
Alvared Roe Cecil CLIFTON - RTA ID#
184
Selfless to a fault
... tall, strong, suave and unperturbed, selfless to a fault, (he) was held in high esteem by his comrades ...
In his memoir of the 1914-1918 war years, George Medcalf described his 11th Battalion friend Alvared Clifton thus
It would appear that Alvared or Alvie as he was known, was not only selfless but completely lacking in affectation. On the attestation paper he completed when enlisting for military service abroad, he wrote but one word 'labourer' in answer to question 5 - What is your trade or calling?
Details

Hits: 4290
Ferdinand George MEDCALF - RTA - ID#
105


... an unusually modest type of man ...


Ferdinand George Medcalf's intelligence, leadership and courage earned him a Distinguished Service Order, a mention in despatches and a recommendation for a Military Cross.
He enlisted in the 11th Battalion AIF in 1914 as a Private and was invalided back to Australia in March 1917 as a Captain.
Details

Hits: 5498
Ernest John MESSENGER - RTA - ID#
380


He lived a full life...


My great grandmother's brother Ernest was born in South Australia in 1881. He was the second eldest of the eleven children born to George and Jane Messenger. For many years, George had worked as a lumper at the Adelaide docks but when gold was discovered in Western Australia, he decided to try his luck in the Kalgoorlie goldfields. The family relocated to Western Australia in 1898 when Ernest was seventeen and George found work hauling water for the prospectors.
Details

Hits: 3828
Hector Miller - RTA - ID#
439


Loyalty and a bitter twist of fate....
Hector Miller's grandson Keith, tells us about his grandfather
"... for a man who endured a host of unfortunate circumstances in life, he was a remarkably kind person and was bereft of the bitterness that seems a common affliction today. Perhaps the hardscrabble life of turn-of-the century Australian immigrants simply didn't accommodate self-pity and complaining."
Details

Hits: 3990
Walter William Goodlet - RTA - ID#
336

Memories of many a dawn on the heights of Gallipoli...
On 25 April 1915, Wally Goodlet of the 11th Battalion, only days out of his teens, was one of the first West Australian boys to land at Gallipoli.
Some twenty years later, after constant pressuring from his eldest son, he wrote of the landing and of seeing his closest friend Robbo die in his arms even as his platoon was disembarking from the destroyer to the craft which would carry them to that fatal shore.